Organic portobello mushrooms raised in lush Waimānalo were thrust into the spotlight as Kapiʻolani Community College culinary arts students put their own creative spin on original recipes featuring the theme ingredient at the 11th annual Art of Healthy-licious Cooking Contest.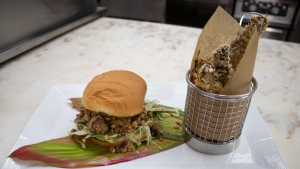 Kapiʻolani CC student chefs Elyn Ogasawara and Serey Panha Sok won top honors for their Ginger Glazed Portobello Mushroom Burger with Baked Portobello Mushroom Fries. The champion duo each received a $1,000 scholarship.
"Panha and I come from different parts of the world," said Ogasawara. "I come from California and Panha comes from Cambodia. What's more American than a burger and fries, and then we put an Asian spin on it."
Sponsored by Kapiʻolani CC and independent living community, Kāhala Nui, the cooking competition tasked students with developing delicious healthy recipes using a featured ingredient that can easily be reproduced by seniors. Past ingredients have included watercress, taro, ulu, tofu, rice, Hawaiian sweet potato and kampachi.
Rocio Loza and Yuriko Okazaki earned the People's Choice award for their Mushroom Cauliflower Rice with Mushroom Teriyaki Chicken Glaze recipe each earning a $500 scholarship. The award was voted on by members of the audience, which was comprised of Kāhala Nui residents and other guests.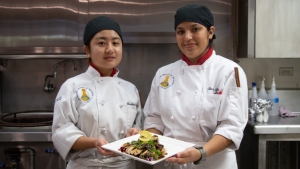 "Our instructors helped guide us to determine what flavors we wanted to portray, giving us input to adjust our methods and techniques, keeping us focused on our target audience, and critiquing our first attempts," said Loza. "They encouraged us to be creative and develop flavors that we think our audience will enjoy, we were inspired to use what our instructors taught us in previous classes and apply them to this competition."
Other teams and recipes
Asuka Mizuguchi and Makai Kato—Mushroom Ten-Shin Han
Jihun Lee and Sanghyun Park—Mushroom with Steamed Quinoa
Each team member received a $100 Amazon gift card.
Recipes were scored based on taste, nutritional value, use of the theme ingredient, ease of preparation and oral presentation by the judge panel:
Grant Itomitsu (Kapiʻolani CC department chair, culinary arts), Todd Constantino, (Kāhala Nui), Chef Eric Leterc (The Pacific Club) and Zachary Lee (Small Kine Farms).