Students enrolled in the culinary program at Kapiʻolani Community College had the opportunity to discover, experience and connect with top professionals in the specialty coffee industry of Hawaiʻi. The very first Pono Collective Coffee Experience series kicked off in February.
Twenty five students participated in four sessions at coffee facilities around Oʻahu, interacting and learning about the journey of the coffee bean, from farm to brew.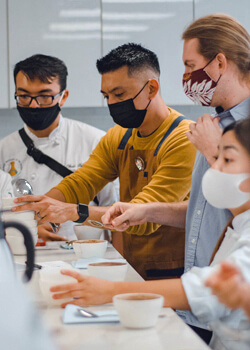 "The Pono Collective events were an interesting and unique experience that not only introduced the coffee industry but provided an excellent opportunity to venture beyond the classroom/kitchen," said Kapiʻolani CC culinary student Jonathan Sentilles. "While learning a great amount about the stages of coffee from farm to cup, there are invaluable learning experiences such as Coffee Cupping and Sensory Training that elevates an understanding of the five senses, flavor and aroma perceptions, and the five basic tastes, that can be applied to all aspects of being a culinary professional."
The series of events included: coffee farm tour and sustainability at Waialua Coffee Farm and processing center with Juli Burden and Jon Ching; sensory and coffee grading at Savor Brands with Marc Marquez and Towa Ikawa; roasting and coffee in culinary at Honolulu Coffee Company with Abigail Joslyn and Tim Gugudon; and brewing and coffee at Kapiʻolani CC Culinary Innovation Center with TK Yamada and Towa Ikawa.
"This opportunity allowed us to explore the potential paths and direction of the future of culinary education," said Lauren Tamamoto, Kapiʻolani CC Culinary Innovation Center coordinator. "We are looking beyond the norm, that culinary isn't always about working in a kitchen or restaurant. It can also be about farming, food production and suppliers, ethical sources, and an expertise in ingredients."
A focus on sustainability and exposure to the local farming industry has been a regular part of Kapiʻolani CC's culinary program. During these practical experiences students develop a comprehensive understanding of their role as future chefs in both their community and in the industry. They are encouraged to research, experiment with ingredients and new methods, and take risks that challenge the current perception of the culinary industry.
"The Pono Collective Coffee Experience program allows our students to expand their culinary knowledge through experiencing Hawaiʻi's coffee culture from a hands-on approach," said Tamamoto. "There is value in having expertise in a specific food or ingredient. Coffee is complex and involves a great deal of research and science—from growing to brewing. Through this collaboration we are not only facilitating a student's learning process, we are also facilitating their creative process."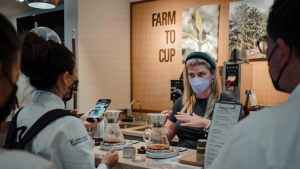 The Pono Collective plans to host the event bi-annually and it will be offered to enrolled Kapiʻolani CC culinary students. Students who participated in the coffee experience program were also invited by the Pono Collective to participate in the Specialty Coffee Association Coffee Skills Program Sensory Skills Foundation course. The Pono Collective provided the scholarship funding for the workshop and the certification of the students. This sensory certification is an internationally recognized certification that demonstrates students knowledge in sensory evaluation skills related to coffee.
The Pono Collective, created by the company Savor Brands, is a community and educational cooperative committed to the future of specialty coffee in Hawaiʻi with an emphasis on locally grown coffees. Hawaiʻi is the only U.S. state to grow coffee on a commercial scale and the Pono Collective is a united network of coffee professionals, enthusiasts and students whose purpose is to openly share knowledge, research and comradery.