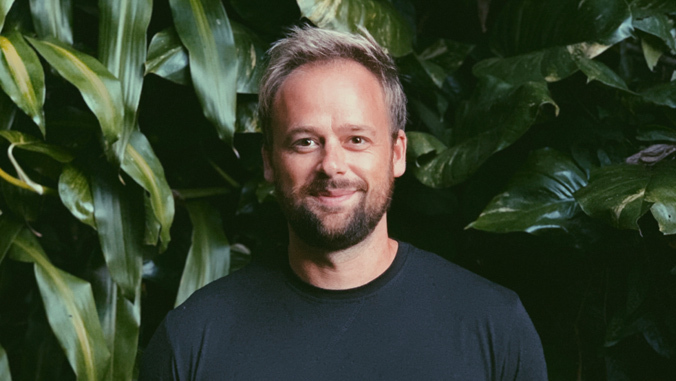 The highest and most widely recognized teaching award a junior professor of landscape architecture can receive was awarded to an assistant professor at the University of Hawaiʻi at Mānoa School of Architecture. Simon Bussiere is the recipient of this year's Council of Educators in Landscape Architecture (CELA) Excellence in Teaching Award.
Bussiere's award brings attention and sharper focus to the important work being done at UH to offer the people of Hawaiʻi a degree program in landscape architecture.
"It felt incredible to be nominated by my students and colleagues," said Bussiere. "And the honor of being this year's winner feels like the culmination of almost 10 years of learning how to become a teacher of design. It's a challenging and often thankless endeavor, with the majority of my teaching being done at the foundation graduate level. Many students enter the program with expectations that there are definitive right and wrong answers or correct ways of approaching design. My teaching instead focuses on a step-wise formative approach that emphasizes a process of analysis, experimentation and creative discovery over summative outcomes."
The CELA award covers more than 120 U.S. programs of landscape architecture, extending its outreach beyond a national audience to include Canada, New Zealand and Australia.
"This is an extraordinary honor—to be recognized at a national level for one's teaching ability and approach," said School of Architecture Dean William Chapman. "Simon brings this commitment to the classroom on a daily basis, and it definitely shows in the quality of our student output. We're proud to number Simon among our faculty."
Landscape architecture is a field uniquely poised to offer novel and innovative approaches to solving some of the most critical problems in Hawaiʻi's built environment.
"In my program director role, it was an absolute pleasure to nominate my friend and colleague Simon Bussiere for this national-level teaching recognition," said Judith Stilgenbauer, professor of landscape architecture. "An exceptionally creative and forward-thinking landscape architecture academic and key member of our small faculty team, Simon has demonstrated an extraordinary commitment to our nascent Master of Landscape Architecture (MLA) program and its core curriculum. He truly is a credit to us all!"
More on the landscape architecture program
With the leadership of Chapman and Stilgenbauer, Bussiere and his colleagues are building a Master of Landscape Architecture Program that is rooted in the Hawaiian archipelago. Unlike other MLA programs in the U.S., students can study first-hand how the land first takes physical form, emerging from and eroding over time back into the ocean.
"Our curricula engage the dynamic pan-pacific amalgam of cultures and ecologies here, enabling us to better understand the concentrated and contemporary patterns of urbanism at work in Honolulu and similar coastal cosmopolitan cities around the globe," said Bussiere. "And with every member of the MLA faculty actively engaged in work that advances ecological resilience through the UH Community Design Center, we are all grounded in Hawaiʻi and come equipped with home-grown visionary principles that can be exported to the rest of the world."
As the MLA Program enters its fifth year and in anticipation of its LAAB Accreditation application in fall 2022, it is well-positioned as an academically, ecologically and community-focused home for students who want to practice landscape architecture.
This award is an example of UH Mānoa's goal of Enhancing Student Success (PDF), one of four goals identified in the 2015–25 Strategic Plan (PDF), updated in December 2020.