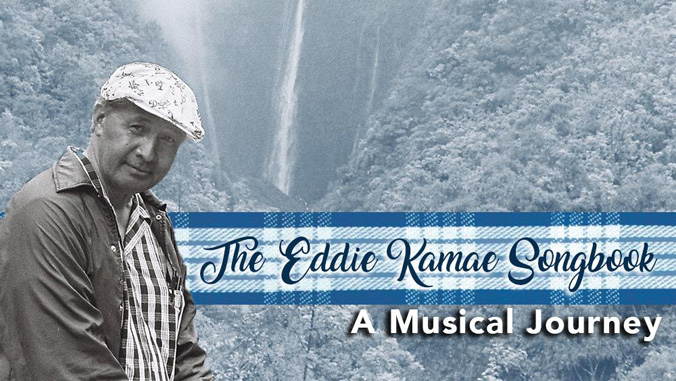 An online collection of songs meaningful to the man whom the Los Angeles Times called "one of the most influential Hawaiian musicians in the last half-century and a filmmaker who painstakingly documented the culture and history of the islands," the late Eddie Kamae, will be available to the public for free on May 1, 2022. Years in the making, The Eddie Kamae Songbook: A Musical Journey is a collection of 34 songs that were meaningful to his journey as a musician, filmmaker and Hawaiian son.
The songbook was produced by Eddie & Myrna Kamae's The Hawaiian Legacy Foundation (HLF) in partnership with the University of Hawaiʻi–West Oʻahu and ʻUluʻulu: The Henry Kuʻualoha Giugni Moving Image Archive. The songbook offers a new and interactive way for Hawaiian music listeners to access and learn about their favorite Hawaiian songs through a treasure trove of information.
"Eddie realized the importance of documenting the wealth of traditional knowledge shared by his many kumu. His life work was committed to building an archive of the stories and music of Hawaiʻi. This songbook ensures that songs shared with Eddie, and those he composed, can be played and sung by families, children, students, musicians, and lovers of Hawaiian music," said his wife Myrna Kamae, HLF executive director. "We are so excited to share this gift!"
The Eddie Kamae Songbook includes direct links to the descriptive catalog records and short streaming video clips in the Hawaiian Legacy Foundation: Eddie & Myrna Kamae collection on ʻUluʻulu's website. Researchers may contact ʻUluʻulu to view full length digital footage from the collection.
A launch event is scheduled for May 1 at The Royal Grove, Royal Hawaiian Center, from noon to 6 p.m. The program features the music of Eddie Kamae & The Sons of Hawaiʻi performed by Paul Kim, Analu Aina, Mike Kaawa, Ocean Kaowili and the Grandsons of Hawaiʻi, Waipuna, Waimānalo Sunset Band and other guest artists kanikapila style.
UH West
Oʻahu

participates in production

Several UH West Oʻahu members participated in the production of the songbook. Kawena Komeiji, Hawaiʻi-Pacific resources librarian, was a songbook reviewer and gave feedback on the design, curriculum and mele translation. Curriculum Specialist Lilinoe Andrews wrote and researched the text, and updated the song translations. ʻUluʻulu's staff contributed to this project, including Haunani Haia, HLF Archives project assistant, and Associate Professor of Music Jon Magnussen, who reviewed the songbook. UH Mānoa Librarian and archivist Kapena Shim was a member of the Hui Hana songbook team along with Myrna Kamae and Andrews.

Each song is presented as a pūʻolo (bundle) that contains sheet music, lyrics and translations, audio and video recordings of Kamae and fellow musicians, the story of the song, educational questions, a bibliography, and many print resources from the Kamae archive. Written with children and families in mind, the songbook is a source of curriculum across disciplines in schools and at homes and a foundation for the music, stories and aloha to live on.

Kamae died in 2017 at the age of 89, leaving an entire library of music and materials celebrating the culture of Hawaiʻi, including 10 films that continue to be broadcast on PBS Hawaiʻi.

Read more in Ka Puna O Kaloʻi.
—By Leila Wai Shimokawa