An annual music event at the University of Hawaiʻi at Mānoa was held in person for the first time since 2019. Hosted by the Campus Center Board Activities Council (CCBAC), the 2022 Aloha Bash on April 29 at the Campus Center Courtyard featured hit Hawaiʻi reggae band The Green.
"Live entertainment is always better in person and we have definitely missed engaging with students after these past two years," said CCBAC Chairperson Ashley Nguyen. "It felt exciting to have put on this concert for the students, especially since the students were eager to see performers on stage again. There were many challenges/uncertainty in the beginning with coordinating this event due to COVID-19, but we are proud of our team for pulling together this successful event!"
Tickets went on sale April 21 and sold out in five days. The Green was formed in 2009 and were among the first reggae bands from Hawaiʻi to extensively tour the continental U.S. and perform in Japan and New Zealand. The band supported many American reggae bands including Rebelution, Iration, SOJA and Damian Marley. Grammy-winning pop superstar Bruno Mars selected The Green to open his three sold-out shows at Neal S. Blaisdell Arena in 2014, and his two sold-out dates at Aloha Stadium in 2018.
With much of the live music industry scaled back in 2020 and 2021 due to the pandemic, many musicians enjoyed an extended hiatus at home with family and friends and additional time to focus on their music. The Green sum up their period of self-reflection on their sixth studio album, Brand New Eyes, which is out now.
Nguyen would like to give a special shoutout to Campus Center and Student Life and Development departments for making the concert possible, which included Mānoa Dining Services; Ticket, Information and ID Office; Meeting and Event Services; Campus Center Facilities; and Mānoa Now at UH Mānoa Student Media.
"I felt relieved and ecstatic that students were excited for our event," Nguyen said. "Our goal as the main programming arm for UH Mānoa is to plan events that students look forward to and I believe my team reached our goal with this event!"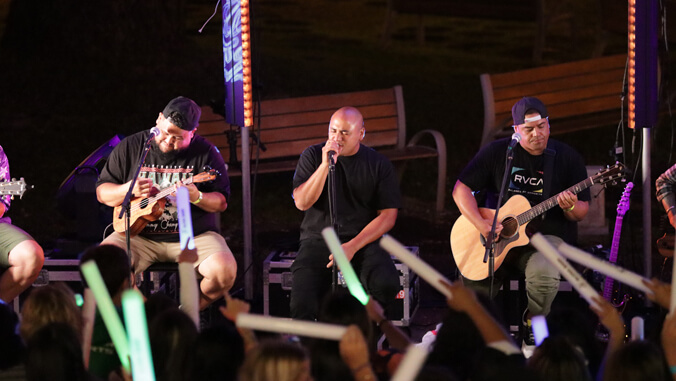 —By Marc Arakaki