To learn about the traditional art of bark cloth making from world-renowned kapa maker Dalani Tanahy, nearly 30 novices from the University of Hawaiʻi at Mānoa School of Ocean and Earth Science and Technology (SOEST) joined the event. With funding from the UH Mānoa Office of Student Equity, Excellence & Diversity and the SOEST Maile Mentoring Bridge Program, the workshop was open to faculty, staff and students.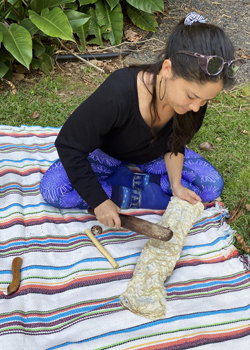 Kapa is a traditional fabric created from the bast fibers of trees and shrubs from flowering plants Rosales and Malvales and is used primarily for clothing, bedding, robes and also as banners and funerary wrappings. This craft involves removing the outer bark from branches, pounding the fiber into cloth and designing and decorating the materials with symbolic prints.
A practitioner of the art of Hawaiian kapa for nearly 25 years, Tanahy has created pieces for notable figures, including the Dalai Lama and the king of Morocco, among others. Her work has been featured in exhibits at the Bishop Museum, the National Museum of the American Indian in Washington D.C., and the British Museum.
During the workshop, Tanahy and her apprentice Kehau, shared the prevalence of kapa throughout Polynesia and the revival of the practice in Hawaiʻi as well as tools used and examples of kapa from various Pacific Island communities. With warm encouragement from the kumu, attendees were offered the opportunity to create their own kapa starting from a small portion of a paper mulberry branch.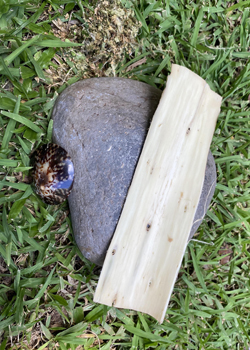 Tanahy and Kehau's passion for the craft and generosity in sharing the traditional art shone through in each step of the workshop. Participants were awed and elated to witness the transformation from a small, stiff section of bark into a larger, flexible, cloth-like material.
"Dalani and Kehau were great teachers, open to all our questions, and shared the fascinating history and diversity of kapa from islands across the Pacific," said Noah Howins, oceanography graduate student and event organizer. "I hope the kapa workshop was just the first of many culture-oriented workshops in SOEST during 2022. Based on participant feedback there is a strong desire for more cross-cutting events that bring in cultural practitioners to share their knowledge."
This event is an example of UH Mānoa's goal of Becoming a Native Hawaiian Place of Learning (PDF), one of four goals identified in the 2015–25 Strategic Plan (PDF), updated in December 2020.
–By Marcie Grabowski