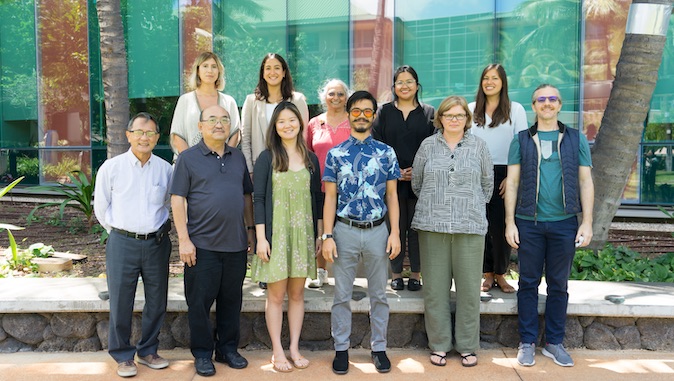 A new study led by University of Hawaiʻi Cancer Center researchers found that Hawaiʻi patients with cancer who were enrolled in therapeutic clinical trials had significantly more positive care coordination experiences. This is attributed to the care clinical research professionals (CRPs) at the UH Cancer Center provide for patients during their cancer clinical trials. The study was published in JCO Oncology Practice.
The study was led by UH Cancer Center junior researcher Izumi Okado, with co-investigators Ian Pagano, Kevin Cassel, Jefferey Berenberg, Jessica Rhee, Anamalia Suʻesuʻe, and former UH Cancer Center Director Randall Holcombe.
Care coordination refers to how a patient's medical care activities are organized. For patients with cancer, care coordination is often complex as cancer treatment. It typically involves numerous health providers, multiple specialists and different care settings. Although care coordination is a vital component of cancer care, many patients still receive care that is poorly coordinated.
Participants in this study were cancer patients receiving treatment and enrolled in clinical trials offered through the UH Cancer Center's Hawaiʻi Minority/Underserved National Cancer Institute Community Oncology Research Program. The UH Cancer Center provides access to about 150 cancer clinical trials for patients in Hawaiʻi. Clinical trials offer patients access to emerging new treatments and provide the highest level of care. CRPs are a vital part of UH Cancer Center's clinical trial care team.
Care coordinators are key
Okado and collaborators found that the care coordination support provided by CRPs is an added benefit for patients in clinical trials. Patients who participated in this study often referred to CRPs as their "care coordinators," illustrating the important role that they play in their care. Having CRPs' help patients with navigating their cancer journey makes the process easier; as a patient described, "you really felt like someone was there fighting with you and for you every step of the way."
"CRPs play a key role in coordinating care for clinical trial participants," said Okado. "Their role in coordinating care is often unrecognized; yet, for patients on clinical trials, the presence of and support provided by CRPs have a positive impact on their clinical trial and cancer care experience."
Findings from this study highlight the positive impact of the UH Cancer Center's CRPs for patients receiving cancer treatment enrolled on cancer clinical trials. The publication will provide increased awareness of improved care coordination and support provided by CRPs as a value-added benefit of participating in cancer clinical trials.
"This study was conducted by Dr. Okado and colleagues underscore the important role clinical research professionals play in the lives of clinical trial participants," said Jonathan Cho, UH Cancer Center Clinical Trials Office medical director. "The cancer research community firmly believes clinical trial participation offers many potential benefits and this study is an affirmation of this."
Certificate program offered at Outreach College
The field of clinical research is thriving in Hawaiʻi. Upon successful completion of the Clinical Research Professional Certificate Program offered at UH Mānoa's Outreach College, (22 90-minute lectures), individuals enter one of the fastest growing fields in the U.S. (13% growth by 2026), with average salaries in Hawaiʻi ranging from $45,000 to $85,000.
A free informational webinar hosted by Joe Ramos, interim director of the UH Cancer Center, will be held on May 25, 2022. Register for the webinar.
This research is an example of UH Mānoa's goal of Excellence in Research: Advancing the Research and Creative Work Enterprise (PDF), one of four goals identified in the 2015–25 Strategic Plan (PDF), updated in December 2020.