After two years, the University of Hawaiʻi at Mānoa returns to its traditional in-person ceremonies for the 111th Annual Commencement Exercises on May 13–14, to recognize and honor more than 2,300 graduates at the Stan Sheriff Center. Nearly a hundred dedicated volunteers have signed up to help make the event run as smoothly as possible and ensure it is a memorable occasion for the graduates and their families.
More highlights from the commencement ceremonies and our amazing graduates
"We are so grateful for the support of our 100-plus dedicated faculty, staff and student commencement volunteers who come out every semester and donate their time to help make this momentous day happen for our Mānoa students," said Lori Furoyama, commencement coordinator with the Office of the Vice Provost for Academic Excellence. "They play a big role in bringing the commencement ceremony to life and are an essential part of the day."
Volunteer duties include everything from student and faculty lineups, ushering, checking graduate and faculty regalia, helping Tūtū find an accessible seat to watch her grandson graduate, assisting families with questions and much more.
Dedicated volunteers
Diane Nakashima, catalog coordinator for the UH Mānoa Catalog Office, has volunteered to help at commencement since 2004.
"Once you volunteer, your name never goes off the list," joked Nakashima. "But truly, I like volunteering for commencement because it is such a feel-good occasion where the students who are graduating are excited, proud and happy. I like to see the faculty lining up to congratulate the students, and the feeling of accomplishment that the students emulate."
Nakashima recalls when she volunteered the same year her son graduated. "I volunteered in the line-up area, and I got to hang around with him until he walked into the ceremony. I got to spend that extra time with him as he prepared to go through the ceremony," she shared.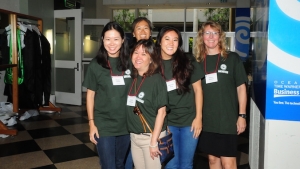 Shelley Yorita, a preschool teacher with the UH Mānoa Children's Center and a 30-year employee, has been a part of the volunteer crew for 15-plus years.
"It is thrilling to see people I know in different capacities graduate: friends, relatives, colleagues, interns, student assistants and the parents and the preschoolers I have taught," she said.
Among those preschoolers is Yorita's former student and his father who both graduated at the same ceremony. "I vividly remember Todd and his dad walking to preschool together. Seeing them walk out together with their diplomas was far out!" Yorita said.
"We are so fortunate to have returning volunteers like Shelley and Diane who not only assist our graduates, but recruit and mentor new volunteers," added Furoyama. "Their knowledge and background has been key to making it a special day for students and their families throughout the years."
Wanted: UH Mānoa graduation volunteers!
As "veteran volunteers," both Yorita and Nakashima encourage their colleagues and friends to also volunteer at graduation.
"Volunteers help at the frontlines of commencement as well as behind the scenes. Every role is important," said Yorita.
Nakashima added, "We work with our goal to help keep the university running well, to graduate the students who have chosen to come to our campus. When you volunteer at the commencement, you are there to be a part of their accomplishment, and help to finalize their career at UH Mānoa. Come join us!"
Faculty, staff and student groups are always welcome to volunteer. If you are interested in volunteering this semester or at a future ceremony, contact Furoyama at graduate@hawaii.edu.
—By Arlene Abiang