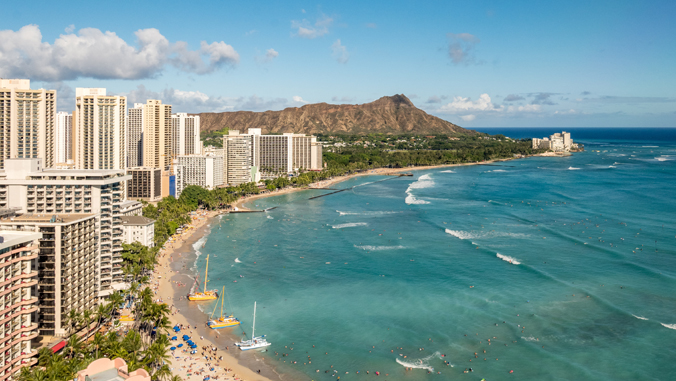 Hawaiʻi's economic recovery has resumed now that the winter omicron wave is behind the state, and once the COVID-19 wave recedes in Asia, the long-awaited return of international visitors will begin in earnest, according to the University of Hawaiʻi Economic Research Organization (UHERO) in its second quarter forecast for 2022.
UHERO added, Hawaiʻi's delayed recovery from the pandemic means that we should expect moderately strong growth, despite clearly deteriorating conditions in the U.S. and global economies. The worsening global economic environment poses substantial downside risks to our Hawaiʻi forecast.
Highlights of the May 12 report:
Prospects for U.S. and global growth have worsened markedly since our last forecast on March 6. The Russian war on Ukraine has pushed up energy and commodity prices, and supply chains are again threatened by spreading COVID-19 shutdowns in China. The Federal Reserve is pursuing a rapid pace of monetary tightening in the face of the highest inflation in decades. These factors will restrain global growth for the next several years and significantly raise recession risks.

Hawaiʻi

's tourism recovery quickly resumed after the omicron wave receded. As of March 25, there are no COVID-related requirements for arriving domestic passengers. The recent BA.2 wave has pushed back our forecast for the return of Asian travelers. The yen's weakness and rising travel costs will act as headwinds. Overall visitor arrivals will exceed 90% of pre-pandemic levels by year's end, and real visitor spending will be a third higher than last year, aided by the return of higher-spending international visitors.
After a second-half pause last year, the labor market has begun to edge upward again. The state's labor force took a hit during the pandemic. While the proportion of working age people employed or looking for work has now largely recovered, the declining population—mostly on

Oʻahu

—leaves the pool of available workers below 2019 levels, acting as a constraint on future growth.

Hawaiʻi

's nonfarm payroll job count will rise by more than 4% this year, continuing at a healthy pace in 2023.
Inflation in the islands hit 7.5% in March, as measured by the Honolulu consumer price index, only a bit lower than for the U.S. overall. Inflation has raised household costs by an average of $3,600 and has also raised business production costs. As a result, inflation will burden economic growth until it returns to trend over the next two years.
Real personal income has fallen with the end of pandemic-era fiscal support, and inflation will also take a toll. Real income will decline 5% this year and recover less than 1% in 2023. Employment gains and a tight labor market will support a return to moderate income growth by 2024. Real gross domestic product, the broadest measure of production, will rise 3.5% this year and approach its pre-COVID peak by the middle of 2024.
Homebuyers are being squeezed both by surging home prices and mortgage rates that have risen by more than 2 percentage points since last summer. Rents in the islands have also increased significantly. A potential moratorium on new water meters, resulting from the Red Hill Navy fuel groundwater contamination, threatens new home building. Public construction prospects are robust, owing to a significant volume of state and federal projects. Labor shortages and material costs will be challenges.
"Were it not for the anticipated return of international visitors, we would be marking down our forecasts because of the combined effects of war, inflation, supply bottlenecks, and pending fed interest rate hikes," according to UHERO. "While we think ongoing tourism recovery will offset these forces in Hawaiʻi, they nevertheless represent an increasing recession risk."
UHERO is housed in UH Mānoa's College of Social Sciences.
This work is an example of UH Mānoa's goal of Excellence in Research: Advancing the Research and Creative Work Enterprise (PDF), one of four goals identified in the 2015–25 Strategic Plan (PDF), updated in December 2020.