The Frances Davis Award for Excellence in Undergraduate Teaching for a faculty and a graduate assistant recognizes dedication and demonstrated excellence as teachers of undergraduate students. It was established as a memorial to the late Frances Davis, who taught mathematics at Leeward Community College and the University of Hawaiʻi at Mānoa for 19 years. Joseph Keola Donaghy, Hoa Le, Brent Kawika Rubio, Tarisi Vunidilo and Justin Walguarnery received the award for 2022.
Joseph Keola Donaghy, UH Maui College
Joseph Keola Donaghy is an assistant professor of music and serves as the faculty coordinator for the Institute of Hawaiian Music at UH Maui College. The institute mentors and trains aspiring musicians in performing, singing, composition, recording techniques and marketing of Hawaiian music. Students are taken from the beginning of their musical training to their career debut.
Donaghy is passionate about Hawaiian music and has worked with students to produce albums, which has earned him a Nā Hōkū Hanohano award as producer of the compilation EP "He Lani Ko Luna, He Honua Ko Lalo." He is accomplished in the Hawaiian music industry, serving as a member of the Board of Governors of the Hawaiʻi Academy of Recording Arts.
He is also linguistically accomplished in Hawaiian, Te Reo Māori and Irish Gaelic. Donaghy is also the developer of the Hawaiian keyboard and recently developed and released Hulihua—a Hawaiian clone of the popular Wordle game.
One of his colleagues wrote, "His work in mentoring the next generation of musicians and giving students a pathway to utilize and embrace their talents as a musician is notable and should be celebrated!"
Hoa Le, UH Mānoa
Hoa Le is a PhD candidate in the second language studies department in the University of Hawaiʻi at Mānoa's College of Arts, Languages & Letters. During the past two years, she has taught undergraduate classes in the Vietnamese language program where she developed new, innovative syllabi and course material that served the diverse and real-world needs of her students.
She believes education, and language teaching in particular, should aim to contribute to modern society, which is rooted in rounded, open and well-developed educational concepts. Importantly, it should place the learners at the center of education, educating the whole person, and promote mutual aid and cooperation in the classroom.
When teaching online, Le put extra effort to take advantage of technology making her lessons engaging and motivating. Her students have expressed that they really enjoyed and were delighted learning this tonal language and connecting to its culture, while putting what they learned into real-world practice.
Brent Kawika Rubio, Honolulu CC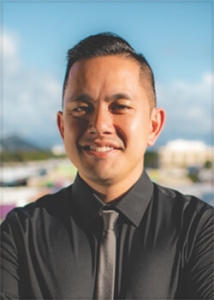 Brent Kawika Rubio is an associate professor of chemistry and biochemistry at Honolulu Community College. He is a proud alumnus of Pearl City High School, UH Mānoa, and the University of California at Santa Cruz, where he earned his PhD in chemistry and biochemistry.
According to his nominators, Rubio is a "tremendous educator who embodies professionalism and inspires the desire to learn and grow." "Best teacher ever" encapsulates the sentiments received from his students. Students also describe him as "passionate," "extremely organized" and "able to make chemistry understandable." One student said that Rubio "genuinely cared about his class and treated us all as equals."
In addition to teaching, Rubio has held leadership positions such as division chair, STEM Center director, President's Commission on LGBTQ+ Equality co-chair, and Pamantasan Conference co-chair. Since 1998, Rubio has served in the Hawaiʻi Army National Guard. He is currently the first sergeant of the 111th Army Band.
Tarisi Vunidilo, UH Hilo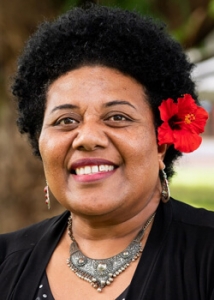 Tarisi Vunidilo is an assistant professor in anthropology and the coordinator of the Pacific Island Studies Certificate at University of Hawaiʻi at Hilo. Her area of specialization includes the cultures of Oceania with an emphasis on her home community of Fiji, and her topics of specialization center on indigenous museum studies. She is currently volunteering as secretary-general for the Pacific Islands Museums Association.
"Dr. Vunidilo embodies and leads by example the ethics set forth by the UH system initiative to indigenize university education, Hawaiʻi Papa O Ke Au," said a nominator. "She brings to the classroom a Fijian-based talanoa (storytelling) teaching style that allows her to effectively convey ideas while listening to students. With the online nature of teaching during the pandemic, Dr. Vunidilo has nurtured this pedagogy farther, integrating indigenous Fijian frameworks that center on the values of respect, reciprocity, and relationship (veiwekani), and conversing, listening and understanding (veivosaki)."
Another nominator said: "One of Dr. Vunidilo's greatest strengths is her caring attitude toward students and fostering a nurturing learning environment. Several students have shared with us that it was their personal connection to Dr. Vunidilo and her genuine concern that sustained them in their journeys to graduation."
Justin Walguarnery, UH Mānoa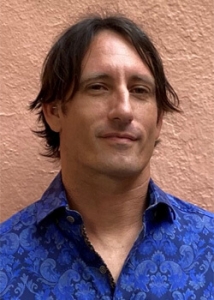 Justin Walguarnery is an assistant professor of biology in the School of Life Sciences at the University of Hawaiʻi at Mānoa. He has rarely had a semester where he felt he could do what had been done before.
"Science by its very nature necessarily entails doing what has never been done and always exceeding your previous understanding, so it's only ever made sense to me to do the same in my teaching of science," he said.
To bridge practice to theory, he is acquiring courses in a third graduate degree in educational psychology in areas of cultural influences, cognition and qualitative research methods. He meets his students as equals with full respect of where they've come from and where they are going.
In the words of one student, "There was an inherent freedom of thought and the support and implementation to actually make it work."
Walguarnery's hands-on lab course taught throughout the pandemic resulted in the highest exam averages ever with half the time in lab under COVID conditions without reducing course content or compromising high standards.