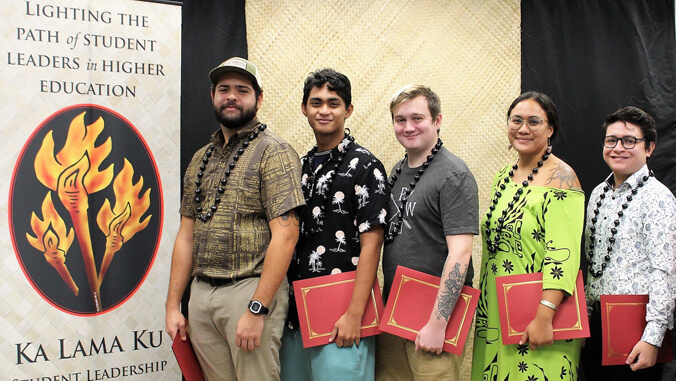 The annual Ka Lama Kū Student Leadership Recognition Awards at the University of Hawaiʻi at Hilo recognizes exceptional contributions haumāna (students) make in their formal and informal leadership roles on the Hawaiʻi Island campus. Sixteen students selected by a committee of UH Hilo haumāna were honored at a ceremony hosted by the Ka Lama Kū Student Leadership Development Program on April 8.
"The end of the semester is my favorite time of year because we get the privilege of acknowledging outstanding students on our campus," said Maile Boggeln, coordinator of UH Hilo student organizations. "The Ka Lama Ku student leadership awards are the only awards on campus that recognize students for their leadership while here."
Alakaʻi

Award

Zoé Acosta received an award that recognizes leaders who inspire, excite and provide commitment toward shared goals. Acosta is a marine science major and student assistant at the Office of Admissions. Acosta was nominated for the excellent standard she emulates among student workers by maintaining a positive attitude, strong work ethic, and creative problem solving approach.
ʻIke Pāpālua Award
Isabella Arrieta, a graduate student in counseling psychology, earned an award that recognizes leaders who have the gift of vision. Arrieta is focusing her graduate work on clinical mental health counseling while also working as a student assistant at the campus' Women's Center and LGBTQ+ Center, and serving as a senator-at-large for the UH Hilo Student Association. Arrieta is recognized as a very passionate learner who excels in and out of the classroom and continues to show great promise to better not only herself but the world around her.
Kuleana Award
A double major in geography and environmental science, Briana Ferrin received an award that commends leaders who instill and motivate others toward solutions. Ferrin is a senior resident assistant for natural science students housed on campus. She is recognized for her ability to jump into problem-solving action and encourage peers to be accountable and responsible. The environmental sustainability advocate is passionate about sustainability-oriented goals, and reminding others about our collective kuleana (responsibility) to Earth.
Laulima Award
Junita Jetley is majoring in administration of justice with a minor in anthropology. She is recognized with an award that spotlights leaders who know the importance of teamwork, networking and collaboration. Jetley serves as a resident assistant at University Housing and Residence Life, is part of the Anthropology Club, and a Student Support Services member. She is described as dependable, engaging, kind, genuine and a respectful team player who leads by example with her can-do spirit.
Laulima Group Award
Members of the History Club; David Freund, Nathan Myers, Lilliana Galarneau, Robert Wheeler, Charles "CJ" Patris, Alex Aguirre, Kaelyn Onodera, Donovan Wolford, Joseph "Kepa" Revelle and Taecia "Kukui" Akana received the Laulima Group award. They were commended for going above and beyond to connect with students on campus throughout the COVID-19 pandemic. After restrictions were lifted, the group jumped into action to plan a huakaʻi (trip) for their peers.
Mālama Award
Jaslinn Makamae Kamaka-Mauhili is a business administration major who earned an award that commends leaders who take care of others and the community. Kamaka-Mauhili is focusing on marketing and management, and is also earning a minor in women's studies and a certificate in business analytics and sustainable tourism. She is known for her high moral character, sense of aloha for others, and a strong commitment to completing her academic journey.
Overall Ka Lama Ku Leadership Award
Kuʻuhiapo Jeong, a psychology and communication major, received an award only handed out four times before to recognize exceptional student leaders who have gone above and beyond in their work. Jeong is president of the Psi Chi International Honor Society in Psychology Fraternity; chairperson of the UH Hilo Board of Media Broadcasting; the undergraduate representative for the UH Hilo Committee for Excellence in Diversity, Equity, and Inclusion; and host and social media manager of UH Hilo storytelling program, Wailau. Jeong was nominated for his intense commitment and dedication to the UH Hilo and greater Hawaiʻi Island community.
For more information go to UH Hilo Stories.