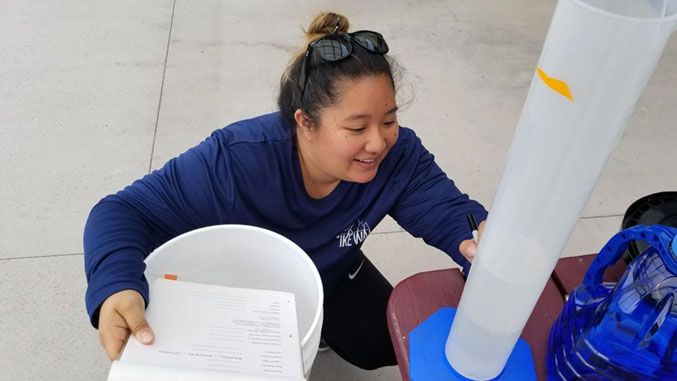 Diamond Tachera, a life-long student in Mānoa Valley, joined the spring 2022 commencement celebration after completing a doctoral degree in Earth sciences at the University of Hawaiʻi at Mānoa School of Ocean and Earth Science and Technology (SOEST).
Though she grew up in Kalama Valley, Oʻahu, Tachera considers Mānoa as part of her home—having attended University Laboratory School from kindergarten through high school. In her senior year, Tachera's science teacher Lauren Kaupp, who received her master's degree in oceanography from SOEST and a doctoral degree in education at UH Mānoa, invited Tachera to walk around campus during the 2009 biennial SOEST open house event.
"We accidentally opened the door on Gerard Fryer, who was practicing his presentation for later that day," said Tachera. "He invited us in for a private lecture on tsunamis and earthquakes in Hawaiʻi. At that time, I wanted to be a geophysicist and study earthquakes, so it was a truly magical experience! I will never forget the kindness that Gerard shared in that moment, and how warm and comforting it felt to be in that space."
Tachera attended Kapiʻolani Community College for two years, worked in the Kapiʻolani CC STEM Center with Keolani Noa, and was recruited into the first cohort of the SOEST Maile Mentoring Bridge Program. Once she transferred to UH Mānoa, Tachera pursued an undergraduate degree in the Department of Earth Sciences (formerly Geology and Geophysics), where she immersed herself in learning about Earth system processes, engaged with mentors and found additional inspiration for her pursuits.
Mentors encourage graduate school
More highlights from the commencement ceremonies and our amazing graduates
Through the internships and research experience, her passion for Earth science continued to grow and she completed her bachelor's degree in geology and geophysics in 2016. But she was unsure about enrolling in the graduate program.
"I doubted myself but with encouragement from some of my mentors, such as Barb Bruno and Tiffany Anderson, I applied to graduate school," she said.
For her doctoral research, Tachera focused on understanding the geochemical changes of water as it moves through the water cycle of West Hawaiʻi Island with SOEST researcher Nicole Lautze as her advisor. She collected more than two years of data on rainfall and groundwater to better understand vital freshwater resources in the area.
"I really wanted to do research that was focused in Hawaiʻi. I am truly grateful for this opportunity, because the research was more than a job to me," said Tachera. "It was a powerful experience to work on a project that would hopefully benefit the Native Hawaiian community especially as we continue to face climate change impacts more and more each year."
Representation and Indigenous knowledge in science
Through the process, Tachera's kuleana and interest grew for increasing diversity, equity and inclusion of Indigenous knowledge in STEM disciplines.
"Growing up, being Hawaiian was just a part of everyday life," said Tachera. "When I became a student at UH, I really felt a sense of Hawaiian pride. My academic and personal journey over the past 12 years has led me to focus my energy and research on issues that are important to our local community and also motivated me to work toward making geoscience more inclusive and equitable."
Tachera published an article in Eos outlining a powerful approach to increase equity and inclusion of Indigenous knowledge and communities in science—reframing funding strategies.
"The geosciences are historically exclusive," said Tachera. "Updating funding systems is just one step toward greater inclusion and accountability across all levels of academia and will result in science that is mutually beneficial to, and respectful of, everyone involved."
Turning to the past for future sustainability
For her next endeavor, Tachera was selected as a postdoctoral fellow for the Advanced Studies Program at the National Corporation for Atmospheric Research (NCAR). The focus of her research will be on combining various data sets, such as historical Hawaiian language nūpepa (newspapers), traditional moʻolelo (stories) and western scientific reports to provide new insights that support sustainable water resources and address potential changes in climate patterns over the last few centuries.
"This support from NCAR to integrate science and culture is really exciting," said Tachera. "It's so meaningful to me to have opportunities that elevate Hawaiian history, culture and people, and that really focus on outputs that benefit my community."
This effort is an example of UH Mānoa's goal of Enhancing Student Success (PDF), Becoming a Native Hawaiian Place of Learning (PDF), Excellence in Research: Advancing the Research and Creative Work Enterprise (PDF) and Building a Sustainable and Resilient Campus Environment: Within the Global Sustainability and Climate Resilience Movement (PDF), four of four goals identified in the 2015–25 Strategic Plan (PDF), updated in December 2020.