Filipino Graduation or "FilGrad" is not just a celebration of the academic achievements of Filipino students at the University of Hawaiʻi at Mānoa, but also the rich culture and tradition of the Philippines.
The event was held at Kennedy Theatre on May 13. It was the first in-person FilGrad since 2019 due to the pandemic (2020 event canceled, 2021 event held virtually). FilGrad was led by two Filipino student organizations at UH Mānoa—Katipunan and Timpuyog, with the assistance from the Center for Philippine Studies. Filipinx students and/or any individual who identifies as Filipino and embraces Filipinx culture were welcome to participate.
More highlights from the commencement ceremonies and our amazing graduates
Pia Arboleda, director of the Center for Philippine Studies, opened the event. In her address, she reminded the students that their individual successes benefit the entire community.
"Pay tribute to your grandparents and parents by bowing and kissing their hands. When you kiss their hands, genuinely look at the veins, scars and calluses for they represent the hard work and sacrifice it has taken to get you to where you are today," Arboleda said.
FilGrad 2022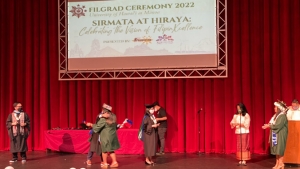 The theme of this year's event was "Sirmata at Hiraya: Celebrating the Vision of Filipinxcellence," to honor the Filipino visionaries of the past, and celebrate the Filipino leaders of today and tomorrow.
The main commencement speaker was attorney Sergio Alcubilla III, an alumnus of the William S. Richardson School of Law who is running for a congressional seat representing Hawaiʻi in district 1. He was chosen for his unrelenting passion to serve our community and champion the causes that are important to Filipinos and underrepresented minorities in Hawaiʻi.
Constancio Paranal III, juris doctor candidate, and Eunice Bala, bachelor of science in biology and bachelor of arts in Philippine language and culture candidate, were selected as student speakers for their outstanding scholarship, exemplary contributions to the community, and their ability to communicate and inspire hope in these challenging times. A total of 78 graduates registered for FilGrad, representing 11 colleges and schools, including 10 doctoral and six master's students.
Evolution of FilGrad
FilGrad is a celebration of students' heritage, identity and community. It was created five years ago, when graduating Filipinx students collaborated with UH Mānoa's College of Education–Tinalak Filipino Advisory Council to host the first FilGrad in spring 2017 in the Art Auditorium. Twenty four Filipinx graduates were celebrated.
The project was initiated not only to celebrate a significant milestone for Filipino students, but on a broader scale, to address the low graduation rates of Filipino students at UH Mānoa. From 2010 to 2021, the four-year graduation rates for first-time freshmen increased from 13.8% to 42.1% for Filipino students. While a new tradition, FilGrad seeks to not only celebrate the rich cultural histories and contributions of Filipinx communities in Hawaiʻi, but to ensure that representation and access are promoted.
This event is an example of UH Mānoa's goal of Enhancing Student Success (PDF), one of four goals identified in the 2015–25 Strategic Plan (PDF), updated in December 2020.