The University of Hawaiʻi at Mānoa John A. Burns School of Medicine (JABSOM) is one of 10 universities and health care systems that will help lead a groundbreaking $20 million research project funded by the American Heart Association (AHA), Pfizer and Gates Ventures to study barriers that prevent people of diverse race and ethnicity from being represented and included in clinical research trials, with the goal of identifying best practices that ensure their full inclusion. The four-year grant projects began in April.
The Strategically-Focused Research Network on the Science of Diversity in Clinical Trials of AHA, the world's leading voluntary organization dedicated to a world of longer and healthier lives, is funded in part by Pfizer and Gates Ventures. It is the latest initiative in the AHA's unprecedented pledge to aggressively address social determinants of health while working to improve health equity for all communities.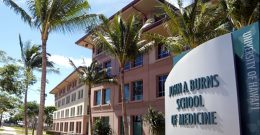 JABSOM's Keawe Kaholokula and Claire Townsend Ing from the Department of Native Hawaiian Health will collaborate with researchers from UCLA and Washington State University under AHA's program, Integrated Community Engaged, mobile health (mHealth), and Data Science to Enhance Clinical Trial Diversity and Cardiometabolic Health (iDIVERSE).
The collaborators will address disparities in clinical research in multiple diverse populations. Researchers at JABSOM will focus on Native Hawaiian and Pacific Islander participants; WSU is working with Native American participants; and UCLA is concentrating on African/Black, Asian/Filipino and Latin American participants.
"Addressing the large health inequities we see between our Native Hawaiian and Pacific Islander communities and other ethnic communities requires, in part, our participation in clinical research to ensure public health interventions and medical treatments are both safe and effective for them," said Kaholokula, who is also co-director of iDIVERSE. "Yet, there is a well-founded mistrust and concern about participating in scientific and medical research because of historical and contemporary discrimination and mistreatment. We need to seriously address these concerns and wrongdoings to ensure that Native Hawaiians and Pacific Islanders can benefit from clinical research."
Each research partner conducts a clinical trial to treat heart disease, diabetes or obesity by using smartphones to stay in touch with participants throughout the project. The three complementary projects aim to mitigate cardiometabolic disparities and they will be thematically connected through mHealth approaches to improve recruitment, enrollment and participation of diverse individuals in clinical trials.
Read more on the JABSOM website.
This is an example of UH Mānoa's goal of Becoming a Native Hawaiian Place of Learning (PDF) and Excellence in Research: Advancing the Research and Creative Work Enterprise (PDF), two of four goals identified in the 2015–25 Strategic Plan (PDF), updated in December 2020.