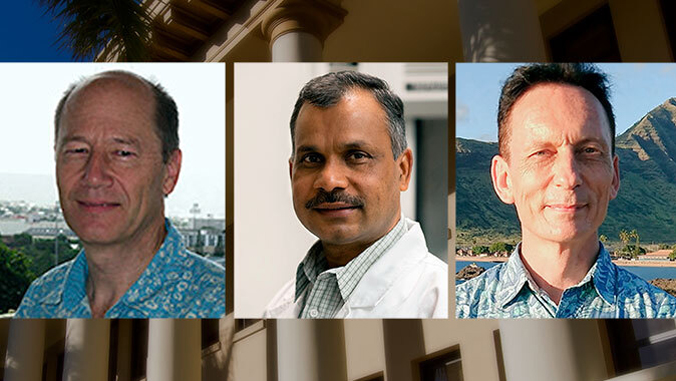 Three University of Hawaiʻi at Mānoa faculty members have received prestigious Fulbright U.S. Scholar fellowships for 2022–23. The Fulbright Program is the world's largest and most diverse international educational exchange program.
The Fulbright U.S. Scholars from UH Mānoa in 2022–23:
Bruce Howe, research professor in the Department of Ocean Resources and Engineering, will head to Portugal to expand submarine cable systems, which span the ocean, connecting billions of people by enabling the internet. Howe will work with leading scientists and engineers, the United Nations, government organizations and other stakeholders. Portugal will be installing the first SMART (Science Monitoring And Reliable Telecommunications) cable system with environmental sensors in 2024. The system will address societal needs for better estimates and predictions of climate and sea level change, ocean circulation, and tsunami and earthquake risks.
Rajesh Jha, professor in the Department of Human Nutrition, Food, and Animal Sciences, will serve as a visiting professor at the University of Applied Sciences, Bingen, Germany. Jha is planning to develop and validate markers to be used in monogastric (pig and poultry) animal nutrition and gut health related research. Jha will use this opportunity to develop a long-term collaborative research program with the host university and other potential researchers. For more, visit the College of Tropical Agriculture and Human Resources website.
Michel Mohr, professor in the Department of Religion, will teach and conduct research in the Department of Philosophy at National Taiwan University as part of a project to reexamine non-western approaches to universality. His research project, "Revisiting the Root of Universalism in Chinese Buddhism: The Tathāgatagarbha Philosophy, Its Bloom During the Six Dynasties, and Its Relevance for the Twenty-first Century," will examine the inception and impact of this idea in China since the Eastern Jin (317–420 CE) and explore its relevance for the present day.
UH Mānoa was honored as one of 18 U.S. doctoral institutions that produced the most Fulbright U.S. Scholars in 2021–22. The honor also earned recognition from U.S. Secretary of State Antony Blinken.
Since 1946, the Fulbright Program has provided more than 400,000 participants from more than 160 countries the opportunity to study, teach and conduct research, exchange ideas, and contribute to finding solutions to shared international concerns.
The Fulbright Scholar Program is supported at UH Mānoa through Fulbright program advisors R. Anderson Sutton, assistant vice provost for global engagement; William Chapman, interim dean of the School of Architecture; Kristen Connors, fellowships, scholarships and professional development coordinator; and Betsy Gilliland, Department of Second Language Studies associate professor. For more information about the Fulbright Program at UH Mānoa, visit this website.
These research projects are examples of UH Mānoa's goals of Excellence in Research: Advancing the Research and Creative Work Enterprise (PDF) and Building a Sustainable and Resilient Campus Environment: Within the Global Sustainability and Climate Resilience Movement (PDF), two of four goals identified in the 2015–25 Strategic Plan (PDF), updated in December 2020.