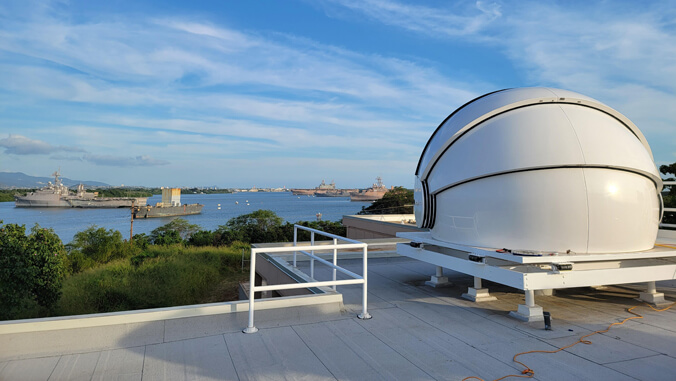 A research-grade observatory was erected at Waipahu High School with the help of veteran astronomers from the University of Hawaiʻi, who spearheaded the inaugural project with the Hawaiʻi State Department of Education (HIDOE). The 12.5-foot dome, which houses a 17-inch telescope, is geared toward helping build student interest in STEM-related careers. The newly installed telescope is mounted on a building rooftop on the school's campus.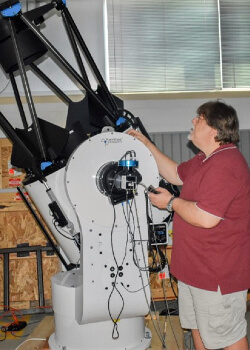 Given his experience with the new UH Hilo astronomy program's teaching telescope, Rene Pierre Martin, an astronomy professor at UH Hilo, provided essential guidance throughout the process of specifying and installing the telescope. UH Institute for Astronomy director Doug Simons helped with the early concept development and worked with the Waipahu High team to select a site for the telescope on their campus. Simons has worked with Waipahu students for years through the Maunakea Scholars program, which gives Hawaiʻi high schoolers an opportunity to conduct research at observatories on Maunakea and Haleakalā.
"To my knowledge this is the first professional grade observatory deployed at a public high school in Hawaiʻi," Simons said. "Combined with the fleet of Celestron telescopes also purchased at Waipahu High for field use by students, the skies above Waipahu are about to be the ultimate astronomy lab for our local students."
The McInerny Foundation donated more than $200,000 for the purchase of the observatory, which is designed to be operated remotely and will be available for students enrolled in the school's college-level Astronomy 295 course through Waipahu's Early College program in partnership with Leeward Community College.
Astronomy expertis
In February 2019, Martin started gathering elements to help select equipment and identify an ideal site, which required conducting tests atop the school's roof. He was assisted by Windell Jones, an engineer working at the Canada-France-Hawaii Telescope and a graduate from Waipahu High.
"Since the telescope had to be mounted on the building, we had to test for vibrations," said Martin. "As a result, we also designed the special platform to mount the dome. The platform top section is isolated from inducing vibrations to the building."
It's a familiar field for the Hawaiʻi Island professor who is currently overseeing the development of a UH Hilo educational telescope that will be available to UH students, faculty and the community.
"The Waipahu observatory is a sized-down version of the UH Hilo educational telescope," Martin explained. Students, desiring to pursue projects first started at WHS but needing a larger telescope located in a great site, will be welcome to do so. They will already be in familiar territory due to similarity of equipment and software between both observatories."
The remotely-operated observatory at Waipahu High School will enable astronomy students to collaborate on joint research projects with teams throughout the state, country and world.