In celebration of Asian American, Native Hawaiian and Pacific Islander Month, the U.S. Department of Agriculture's National Institute of Food and Agriculture (NIFA) profiled researcher Andrea Kealoha, director of the University of UH Maui College Water Quality Lab, Pūkoʻa hinaʻole.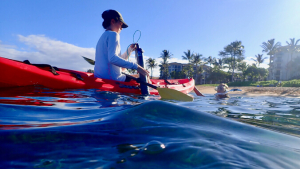 The Water Quality Lab measures dissolved inorganic and organic nutrients, E. coli, and other water quality parameters in seawater and freshwater. The lab provides analytical services to industry, researchers, non-profit organizations and the community. Before it was established in 2020, samples had to be flown to Honolulu, often on ice and within hours of collection.
Kealoha, a UH Mānoa alumna, was born and raised in Pāʻia, Maui and graduated from King Kekaulike High School. She said Indigenous people intuitively understand environmental processes, and are uniquely positioned to excel in careers within the environmental fields.
"I would highly encourage any student interested in pursuing this path," Kealoha said. "It is also very important to seek mentors who will provide support, advice and opportunities along the way. And of course, once you have made it, provide mentorship and support to those who are starting their own academic and career journey."
In 2019, UH Maui College began offering a new science lab technician certificate program to provide knowledge and skills to collect, analyze and interpret environmental and water quality data. At that time, workforce demand for lab technicians with expertise in environmental and water quality testing in UH was projected to increase 36% by 2025.
"I have high hopes for my students!" Kealoha said. "I am probably one of only a handful of Native Hawaiians with a PhD in oceanography. In 10 or 15 years, that number could double or triple. As the sciences diversify, so will the perspectives and solutions we develop to address water challenges. I think that will be the key to our communities' strength and resilience."