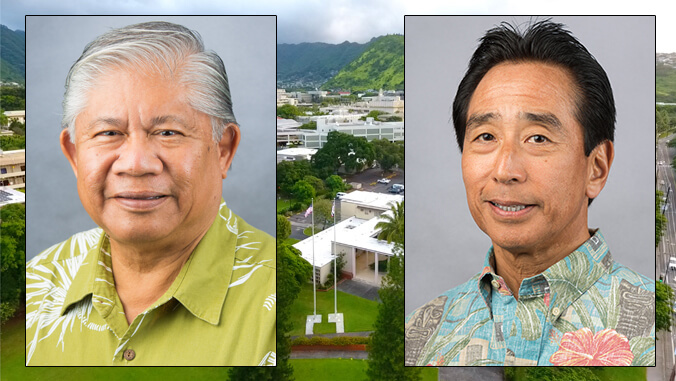 University of Hawaiʻi Board of Regents (BOR) Ben Kudo and Simeon Acoba were honored by their fellow regents for their service and commitment to the UH 10-campus system at the June 2 BOR meeting. Their terms as regents end June 30, 2022.
Kudo, who was first appointed in 2012 by Gov. Neil Abercrombie and reappointed 2017 by Gov. David Ige, served as board chair from July 2019 through June 2021. According to a resolution adopted by the board honoring Kudo, as BOR chair, he is credited with, "masterfully navigating the board through uncertainty and difficult circumstances caused by the COVID-19 pandemic."
During his 10-year tenure, Kudo served on every board committee, including as chair and vice chair of multiple committees, along with numerous task groups and affiliated organizations.
"Regent Kudo played an instrumental role in tackling a number of high-profile issues impacting the University of Hawaiʻi, including those related to Maunakea, tenure, campus-space utilization, energy efficiency, and sustainability efforts, with the goal of creating positive long-term impacts on the University, all the while keeping the best interests of the University in mind," according to the resolution.
Acoba, a retired associate justice of the Supreme Court of Hawaiʻi, was appointed to the board in 2014 by Abercrombie and reappointed in 2017 by Ige. He has also served on every board committee during his eight-year tenure, including as chair and vice chair of multiple committees, and a number of task groups and affiliated organizations.
"The Board of Regents of the University of Hawaiʻi extends its heartfelt gratitude and appreciation to Regent Simeon R. Acoba, Jr., for his dedicated service, guidance, and invaluable contributions to the University of Hawaiʻi and the State of Hawaiʻi," stated the BOR resolution honoring Acoba.
Both Acoba and Kudo have deep connections to UH. Acoba served as vice president of the Associated Students of the University of Hawaiʻi before earning a bachelor's degree at UH Mānoa. He was also one of the student organizers behind a civil rights event on campus on February 19, 1964 that included a speech by Martin Luther King Jr. Acoba also served as adjunct professor and lecturer at the William S. Richardson School of Law and established an endowment at the law school for public high school graduates.
Kudo earned a master of business administration and PhD in business from the UH Mānoa Shidler College of Business, where he also served as a lecturer. He was also an adjunct professor at the law school and was honored with the establishment of the Benjamin A. Kudo Chair of Law in Land Use. Kudo also lectured at UH West Oʻahu.
BOR resolutions honoring Kudo and Acoba (Agenda Item V) (PDF)