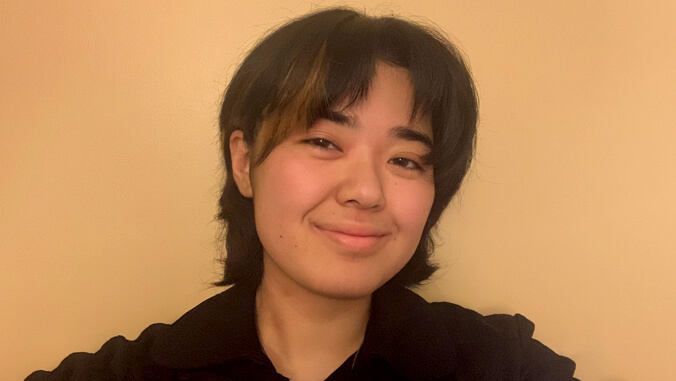 A University of Hawaiʻi at Mānoa classics major is one of two recipients in the nation to receive a coveted scholarship geared toward historically underrepresented groups across North America. UH Mānoa undergraduate Mac Uchimura recently received the Society for Classics Studies' Frank M. Snowden Undergraduate Scholarship.
Uchimura will use the award to complete a Latin intensive course this summer, since understanding the language is critical within the classics field in order to comprehend ancient text.
"It's really a great honor to have succeeded in getting such a competitive award," Uchimura said. "Words fail just a little to describe how I really feel, but most of all, I'm extremely grateful to both the Society for Classical Studies as well as my professors, who helped me throughout the application process and wrote my letters of recommendation."
The Pearl City native, who hopes to become a classics professor someday, fell in love with studying classical Greek literature in high school after a teacher assigned passages from Homer's epic Greek poem, the Iliad. A passion for classics and theater has blossomed into a creative project under the Undergraduate Research Opportunities Program at UH Mānoa. The budding classicist is composing a musical based off of the Latin epic poem, Statius' Thebaid, about the clash of two brothers over the throne of the Greek city of Thebes.
"As someone who enjoys telling stories and making art (and who always gravitated towards older stories and art pieces), I think a lot about legacy and remembrance and the inherent human desire to be remembered," Uchimura explained. "Eons ago, people made paintings on cave walls, and though we may not know specific things about them, we know that they lived and hunted and played and painted. They made art, and humans have continued doing that until the present day."
In addition to writing, Uchimura is also composing 80's inspired rock songs for the musical, and creating concepts of sets and costumes.
New horizons for classics program
There will be more opportunities for UH Mānoa students to study the classics and related subjects as the College of Arts, Languages and Letters is in the process of launching a new department of Religions & Ancient Civilizations in fall 2022. The Ancient Civilizations curriculum, in particular, will center on the study of Ancient Greece, Rome, Egypt, and beyond, and its coursework includes literature, language, philosophy, history and archaeology among other disciplines.
"This is a match made in heaven," said associate professor Daniel Harris-McCoy, who will be the chair of the new department. "We have a shared commitment to study big questions humans have asked throughout history. What is the nature of reality, how do I live a meaningful life?"
This effort is an example of UH Mānoa's goal of Enhancing Student Success (PDF), one of four goals identified in the 2015–25 Strategic Plan (PDF), updated in December 2020.