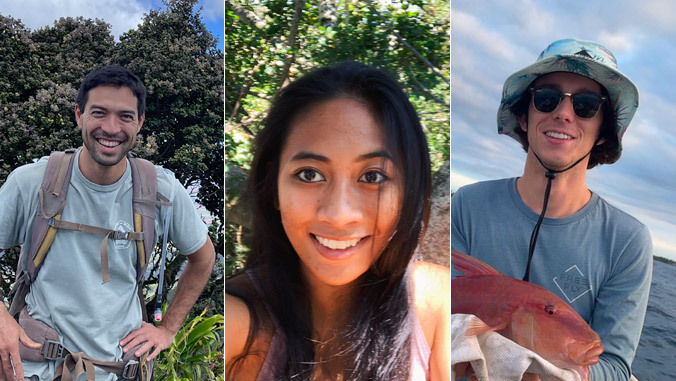 Three incoming graduate students in the Department of Natural Resources and Environmental Management (NREM) in the University of Hawaiʻi at Mānoa's College of Tropical Agriculture and Human Resources were selected to receive Hauʻoli Mau Loa Foundation fellowships for the 2022-24 academic year. The goal of the fellowships is to develop the next generation of natural resource management leaders from and for Hawaiʻi.
The Hawaiʻi students were chosen for their strong academic records as high school and undergraduate students, deep connections to and integration with the local conservation community, passion for the ʻāina (land) and keen interest in preserving and protecting natural resources, and commitment to a career that works toward preserving and sustaining the local environment. All three students will be entering the master of environmental management (MEM ) professional graduate degree program in NREM in August 2022.
In addition to a tuition waiver, the students will receive a regular stipend ($22,140/year plus fringe benefits) and $5,000/year in professional development funds for two years.
New Fellows
Charlton
Kūpaʻa

Hee

Born and raised in Kailua, Oʻahu Hee graduated from Kamehameha Schools Kapālama in 2008 and went on to earn a bachelor of science from Santa Clara University, double majoring in environmental science and studio art. Besides being an artist and high school cross country/track and field coach, Hee is currently the lead field technician for the Division of Forestry and Wildlife Snail Extinction Prevention Program.

For his MEM capstone project, Hee is considering detection probability and behavioral studies as it pertains to the conservation of native land snails. NREM Assistant Professor of Wildlife Ecology Melissa Price will serve as his adviser.

"I have the privilege of building a career in malama ʻāina, working directly with the endangered kāhuli (tree snails) on Oʻahu," he said. "Supporting me for the next two years, both the Hauʻoli Mau Loa fellowship and NREM afford me the time and resources to investigate questions and ideas I've accumulated since the start of my career as a wildlife conservationist."
Destiny Apilado
A graduate of Mililani High School, Apilado received a bachelor of science in biochemistry from UH Mānoa in 2021. She spent the bulk of her undergraduate time conducting research in molecular biology and tutoring students extensively in math and science. Apilado's goal is to work within Hawaiʻi's agricultural industry to improve food security.
"I have a deep love for all things science. To me, the Hauʻoli Mau Loa fellowship is a means of giving back to Hawaiʻi," said Apilado. "HML allows me to follow my path in leading a life that honors my home and contributes to a healthier future. I believe fresh nutrient-dense food is essential in sustaining an all around healthy community, thus it is of the utmost importance that Hawaiʻi has leaders passionate about feeding Hawaiʻi."
Apilado is working with NREM Associate Professor of Soil Ecology Susan Crow, focusing her research on the applicability of lab-developed biochar (black carbon produced from biomass sources like wood chips) produced from wastewater as a soil amendment for farmers. Her project features the idea of a circular economy in which waste is being processed and repurposed as a useful product for farmers.
Aaron Wehrman
Oʻahu born Wehrman is a graduate of ʻIolani School. He went on to UH Mānoa before transferring to UH Hilo in his junior year where he ultimately graduated with a bachelor of science in environmental science.
Whether it was being in the sustainability club or surfing and being outside, Wehrman has always felt a connection to the environment and giving back to the Earth. After completing his undergraduate degree, he knew he wanted to continue his studies.
"I am extremely fortunate to receive the Hauʻoli Mau Loa fellowship as without it I would not have been able to afford graduate school. In fact, before learning that I had received the fellowship, I was planning on taking a gap year to work and save money to hopefully reapply to graduate school later," he said. "Because of the fellowship, I will be able to continue my studies and give back to the community that has given me so much throughout my life. I hope to use this opportunity to educate myself, educate others, and conduct research that will improve Hawaiʻi's environment in as many ways as possible."
Advised by NREM Professor of Forestry Travis Idol, Wehrman is currently debating between a few different research projects.