The New Intensive Courses in English (NICE) at the University of Hawaiʻi at Mānoa Outreach College has been reaffirmed for a full 10-year accreditation by the Commission on English Language Program Accreditation (CEA) from April 2022 through April 2032.
NICE centers on oral communication and cultural competence, as well as innovative methods for teaching and practicing real-world listening and speaking tasks.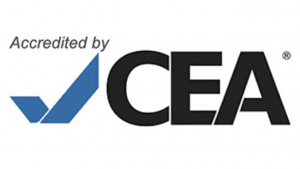 NICE offers English courses throughout the year for students with a variety of goals. Study options include rigorous intensive English for academic, professional and general purposes, as well as short conversation courses that expose students to life in the U.S. and Hawaiʻi. TOEIC (Test of English for International Communication) and TOEFL (Test of English as a Foreign Language) preparation classes are also offered.
"CEA accreditation means that external reviewers have thoroughly assessed our NICE program offerings to ensure that they meet rigorous academic standards that help to ensure student success. This formal recognition from one of the leading organizations overseeing English language teaching and administration helps students know that the courses they take in the NICE program are of the highest quality," said Stephanie Vie, acting dean of UH Mānoa Outreach College.
Cultural immersion
Originally from Chile, NICE program student Mitzi Angelina Labrin Vargas graduated from the University of Chile with a degree in civil engineering and worked as a civil engineer project manager for 11 years before quitting her job to come to UH Mānoa to study English.
"I have always wanted to study abroad and practice my English skills in an English country. I feel English is a universal language and I consider it a personal challenge," said Labrin. "Hawaiʻi is the perfect place where you can find the perfect mix of studies and nature."
"Mitzi has been studying in our program since July 2021. She is an outstanding student and recipient of numerous awards for three terms in a row and continues to work hard in the current term," said Lisa Nakandakari, Outreach College international programs student services specialist. "NICE has really helped her improve her English, especially her confidence in speaking it. This is a testament to the high caliber of teachers and curriculum."
"When I first came to Hawaiʻi I was able to understand but wasn't able to speak fluently, now I'm doing better. I made friends and immersed myself in English," said Labrin.
Labrin had the opportunity to be one of the interviewees during a site visit of the CEA accreditation, and was happy to contribute to the process. "I know how important the CEA accreditation is because in Chile having a professional license or accreditation is also very important," she said.
More on the CEA
The University of Hawaiʻi at Mānoa New Intensive Courses in English (NICE) Program is accredited by the Commission on English Language Program Accreditation for the period April 2022 through April 2032 and agrees to uphold the CEA Standards for English Language Programs and Institutions. CEA is recognized by the U.S. Secretary of Education as a nationally recognized accrediting agency for English language programs and institutions in the U.S.. For further information about this accreditation, please contact CEA, 1001 N. Fairfax Street, Suite 630, Alexandria, VA 22314, (703) 665-3400, www.cea-accredit.org.