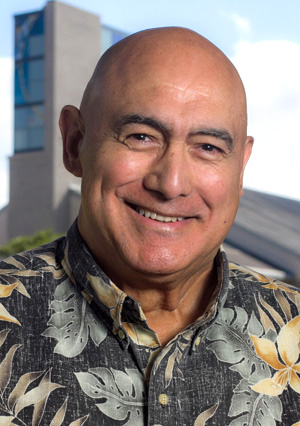 The entire University of Hawaiʻi ʻohana is saddened by the passing of Rockne Freitas, who retired in 2015 following nearly 23 years of service in key UH leadership roles.
Freitas was a pioneer in Native Hawaiian advancement in both higher education and professional sports. He graduated and played football at Kamehameha Schools and Oregon State University and had a stellar career in the National Football League.
After returning to Hawaiʻi, he served in multiple roles in the UH Mānoa Athletics Department, including a brief stint as athletics director and then as vice president of University Relations. Following service with the Ke Aliʻi Pauahi Foundation, he returned to UH as chancellor of Hawaiʻi Community College, vice president for Student Affairs and University Community Relations and chancellor of UH West Oʻahu.
Among his many honors, Freitas was recognized as a Distinguished Alumnus of both UH and Oregon State University and was inducted into the Polynesian Football Hall of Fame.
"Rockne's heart was as big as the rest of him," said UH President David Lassner. "Regardless of his job, he was always ready to step in and help with whatever needed doing. Among his many, many contributions was his leadership in establishing the Hawaiʻi Papa O Ke Ao (Hawaiʻi Foundation of Enlightenment/Knowledge) initiative to help the University of Hawaiʻi on our path to become a model Indigenous-serving institution of higher education. The university extends our deepest condolences to Ala and the entire Freitas family as well as all who knew and loved Rockne."