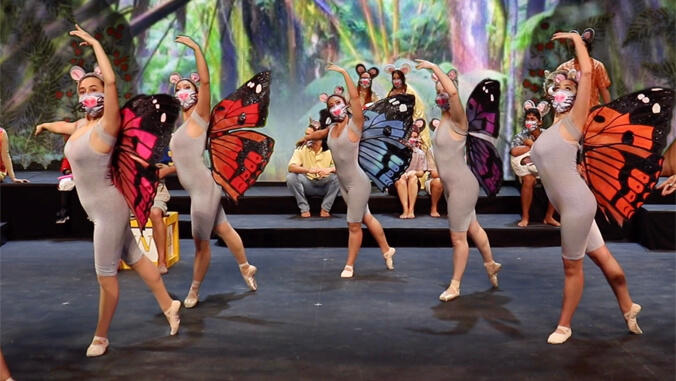 Melodic harmonies performed in the Hawaiian language (ʻōlelo Hawaiʻi) will fill the virtual premiere of a University of Hawaiʻi at Hilo keiki-friendly musical about a poetic mouse. Starting Friday, June 10, the UH Hilo Performing Arts Center (PAC) invites the public to stream, Wordsworth, a theatrical play about a little mouse who highlights the importance of ʻohana and guides his Tūtū and friends through challenges with poetry. Forty haumāna (students) from the Hawaiʻi Island campus star in the ʻōlelo Hawaiʻi musical, which is based on children's books penned by award-winning author and Hawaiʻi Island native Frances H. Kakugawa.
"Keiki can expect an hour of lovable characters, bright costumes, colorful scenery, catchy songs, and a sweet story about how the power of imagination — expressed by Wordsworth through poetry—can brighten our world and carry us through the darkest of times," said Justina Mattos, a drama professor at UH Hilo who staged the production.
Mattos combined forces with Kea Kapahua (UH Hilo dance lecturer) and Rachel Edwards (UH Hilo music lecturer) to work with haumāna from courses such as ballet, chorus and acting who are part of the production's large cast. Jackie Pualani Johnson, a retired UH Hilo drama professor, adapted the children's stories for the stage which was also translated into Hawaiian by Pōhai Montague-Mullins and arranged by award-winning musician Wendell Ing.
ʻŌlelo

Hawaiʻi

festival goes virtual
The pre-recorded UH Hilo musical will premiere at the KEAKA Hawaiian Language Theatre Festival, an event PAC has hosted since 2016. It is one of 11 Hawaiian theatre productions audiences will be able to stream online. KEAKA is usually an in-person event however due to the COVID-19 pandemic, organizers opted to produce a virtual festival which will offer a variety of genres, from full-length plays to slam poetry, film and short research presentations.
UH Mānoa Hawaiian Theatre program productions, Hoʻoilina and award-winning play He Leo Aloha which recently earned eight national awards, are among the featured performances.
Productions from Nāwahīokalaniʻōpuʻu Hawaiian Language Charter School, Kamehameha Schools Hawaiʻi campus, and an Oʻahu filmmaker will also be showcased.
"The festival seeks to promote Hawaiian language and culture through theatre arts; providing free entertainment for our Hawaiian-speaking community, opportunities for performers and other theatre practitioners to work on creative projects utilizing Hawaiian language, and opportunities for all to see and hear the Hawaiian language in use within the wider community," Mattos expressed.
Ola ka
ʻōlelo

i ka hana keaka (Language lives through theatre)

UH Hilo is keen on expanding the number of its Hawaiian language theatre productions. According to Mattos, currently most performing arts students have little to no experience with ʻōlelo Hawaiʻi. Faculty bring in fluent speakers from the community to work side-by-side with haumāna on proper pronunciation and intonation for on-stage dialogue.

The festival will be available for streaming through June 30.