Study moʻolelo (stories) and Hawaiian composition with Kawaikapuokalani Hewett, slack key guitar and ʻukulele with Kamuela Kimokeo, Hawaiian singing with Raiatea Helm, and the basics of recording software with Kapena De Lima.
These expanded offerings are part of Kaʻohekani, a groundbreaking one-year online certificate in Hawaiian music offered at Windward Community College.
"Within a Hawaiian worldview, balance contributes to our joy and understanding of our kuleana (responsibility)," said Kimokeo, director of the Hawaiʻi Music Institute at Windward CC. "This music certificate offers a balanced approach to learning Hawaiian music. From beginner to professional, students will be able to share the joy of music within their ʻohana and with others for generations to come."
New cohort
The next cohort (fall 2022–spring 2023) aims to deepen participants' understanding of Hawaiian music performance and history. Participants will learn from reputable industry professionals how to improve their performance skills, use music in various educational settings, and how music can be a tool to connect with our island home.
Fully online academic subject certificate in Hawaiian Music
8-week online cohort (together as a group)
Immersive, accelerated experience
Certificate also applies to the AA degree in liberal arts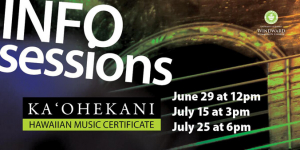 Attend an information session via Zoom by signing up online:
June 29 at 12 p.m.
July 15 at 3 p.m.
July 25 at 6 p.m.
Discover more about Kaʻohekani and get your questions answered about:
Course sequencing and mode of instruction
Program length and approximate cost
Windward CC application process
Registering for courses
Online learning technology and how we support your journey
Scholarships are available sponsored by Kanileʻa ʻUkulele.
For more information about the certificate, email Kimokeo at kamuelam@hawaii.edu.
For questions about application and registration, contact Haʻaheo Pagan, counselor, at (808) 235-7460 or paganj@hawaii.edu.