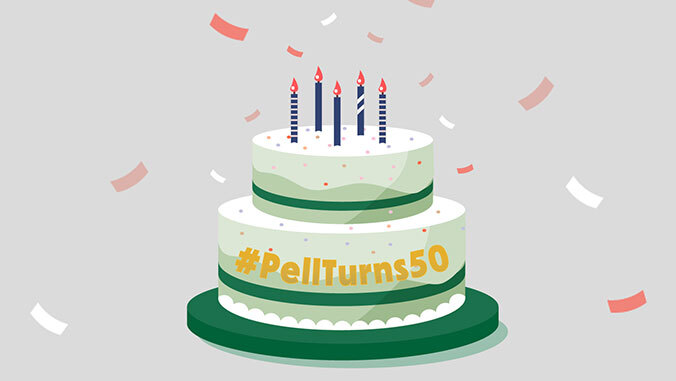 The largest grant program offered by the U.S. Department of Education for undergraduate students celebrates its golden anniversary on June 23. Pell grants, which do not have to be repaid, have been critical in expanding access to higher education and economic opportunities for more than 97,000 University of Hawaiʻi undergraduate students pursuing their first bachelor's or graduate degree.
Students who demonstrate significant financial need based on the information provided on their (Free Application for Federal Student Aid) FAFSA are eligible to receive a Pell grant. According to the National Center for Education Statistics, about 33.6% of undergraduate students nationwide received Pell funding in 2019–20.
"Pell grants were a brilliant social program that enabled decades of students with financial need to attend public colleges and universities," said UH President David Lassner. "It can continue to do the same today if our public policy makers are willing to boldly increase that investment in the future for those who most need the opportunities that higher education offers them to join a thriving and sustainable middle class. #doublepell"
Throughout the same 16 year period, Pell has been awarded to approximately 97,429 unique UH students. The average award per recipient has almost doubled since the 2005–06 academic year to $4,096 in the 2020–21 academic year. Last year, more than 11,880 UH students received $48,669,203 in Pell grants.
Transforming lives
Khanh Nguyen, a UH Mānoa computer engineering student, moved to Hawaiʻi when he was two years old. While Nguyen was born in Michigan, his family is originally from Vietnam.
"Receiving the Pell grant has made my life easier because it was able to provide financial assistance to a big chunk of my tuition, which takes a weight off my mind," said Nguyen.
His goal is to work in Hawaiʻi's renewable energy industry to help accomplish 100% renewable energy by 2045.
Taufa Setefano graduated from UH Mānoa in spring 2022 with a dual degree in Pacific Islands studies and English.
"As a first-generation college student, navigating higher education was a challenge. Financial aid such as the Pell grant allowed me to explore my academic goals with more financial security," said Setefano. "I was able to commit more time to my studies due to being a recipient of the Pell grant, which is something I'm truly grateful for."
Setefano's academic journey continues as she pursues her graduate degree in the UH Mānoa Center for Pacific Islands Studies in the hopes of one day teaching Pacific Islands studies with an emphasis in Pacific Islands literature to youth.
Born in Vietnam, Amy Giang moved to Hawaiʻi when she was four years old and graduated from Moanalua High School. Now a biology major at UH Mānoa, Giang is the first in her immediate family to graduate high school and attend college.
"Since I am from a low-income household, receiving the Pell grant has really eased my family's financial worries. Though I do have some scholarships to cover most of my tuition, there were left-over fees and expenses that would not have been covered without the additional assistance. I am fortunate that I do not have to worry about student debt thus far," said Giang.
Her career goal is to be an optometrist to encourage healthier eye habits and help others maintain their eyesight for as long as possible.
#DoublePell
There is currently a #DoublePell campaign calling on Congress to restore the purchasing power of Pell grants by doubling the amount of the maximum award to $13,000. Doubling the maximum Pell grant will bolster support for students and families recovering from the economic impacts of COVID-19, making college more affordable and accessible.
For more, follow #PellTurns50.