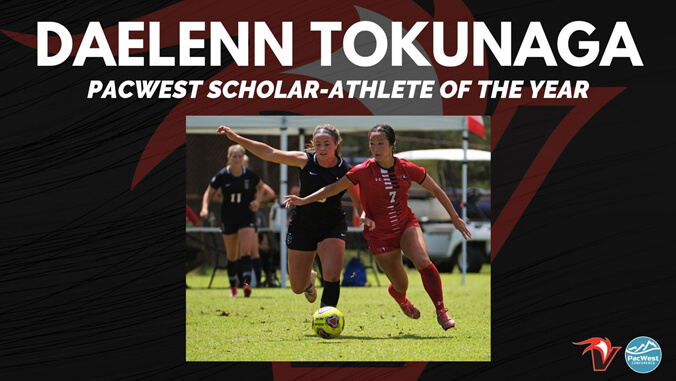 Daelenn Tokunaga, a University of Hawaiʻi at Hilo soccer player, has been named Pacific West Conference Female Scholar-Athlete of the Year by the league's athletic directors. She is UHHilo's first PacWest Scholar-Athlete of the Year.
Tokunaga had a 3.83 grade point average through the spring semester and collected an impressive list of accomplishments—she led her team to its first-ever conference soccer title last fall, their first NCAA tournament appearance and was UH Hilo's first PacWest Player of the Year. She also became the school's first PacWest Women's Soccer Scholar-Athlete of the Year.
"It has been so satisfying and rewarding to be a part of the program's historic growth and success," Tokunaga said. "It felt really good to contribute right away. We came together as a team quickly and we all grew more confident as the season went on. The season was so memorable because of course we won, but we also had so much fun in doing so. That made it even better. I think that had a lot to do with why we were so successful."
It has been so satisfying and rewarding to be a part of the program's historic growth and success.
—Tokunaga
Tokunaga was chosen from a ballot that included seven other conference scholar-athlete winners, one for each of the PacWest's eight female sports.
"Nothing that Daelenn accomplishes surprises me anymore," said her coach Gemen'ne Okamura. "Her desire and drive to compete, to be the best in whatever she does has allowed her to find success on and off the field. She was an instrumental piece of everything we accomplished this year. We are extremely proud of her for receiving this award."
"All of the success and awards are in no way possible without my teammates. Hopefully we continue that momentum into 2022 and accomplish even greater things," Tokunaga said.
The move to UH Hilo
After a brilliant prep career that included being named to the all-state team three times, and selected as the OIA Player of the Year for three seasons, Tokunaga was offered a scholarship to UH Mānoa where she played for two seasons (2018 and 2019). She started in nearly half of the Rainbow Wahine's matches, but that wasn't enough for the goal-setting Tokunaga.
"I didn't do as well at Mānoa as I thought I could," she said. "I needed a change of scenery and committed to Hilo. I was hungry to prove to everyone that I could be the same goal scorer that I was in high school. I did a ton of work in the off-season to make myself better."
She got the change she needed on Hawaiʻi Island.
"It is such a great fit for me in terms of athletics, academics and the overall community," said Tokunaga.
For more read the full story at the UH Hilo athletics website.