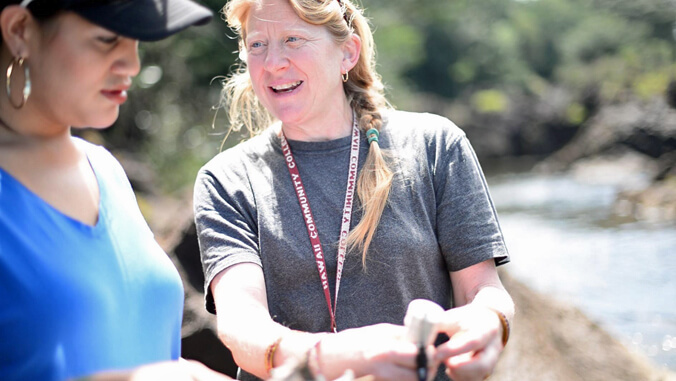 Hawaiʻi Community College Professor Pamela Scheffler has been selected as a Fulbright Scholar, and will travel to Bali, Indonesia to conduct research on bees that could ultimately benefit small farmers.
"It's very exciting to be going to a place so different with so many novel things and unknowns," Scheffler said.
The prestigious and competitive fellowships offered through the Fulbright program allow scholars to conduct research abroad and establish relationships with other scholars and institutions.
Scheffler, whose specialty is ecology, will be working with professors and students at Udayama University to initiate studies on native stingless bee (Trigona spp.) ecology.
"The engineering department has been working on designing bee boxes because Trigona do not have hexagonal combs, so honey extraction is tricky," said Scheffler. "This research will be a complementary project, and these ecological studies will help small landholders diversify with agricultural products like honey and propolis and simultaneously promote native biodiversity."
This is the second time Scheffler, who teaches tropical forest ecosystem and agroforestry management, has been selected as a Fulbright Scholar. She studied small farmer agroforestry systems in India in 2012.
Bringing first-hand knowledge and experience of new places back to Hawaiʻi CC students is one of the biggest benefits of being a Fulbright Scholar, said Scheffler, and Bali presents many opportunities to see unique agroforestry systems and more.
"When you have your own experience attached and it's not just a picture in a textbook but has a story with it, an experience, that makes it exciting for the students, too," Scheffler said.
—By Thatcher J.P. Moats