Organized by a University of Hawaiʻi at Mānoa-led committee, the Goldschmidt Conference will draw more than 2,500 international scientists and students to Honolulu with a focus on geochemistry—a discipline that addresses chemical processes within and on Earth.
This is the annual joint meeting of the Geochemical Society and European Association of Geochemistry, and will be held July 10–15 at the Hawaiʻi Convention Center, in-person and remotely.
Presenters will share the latest discoveries spanning a wide range of Earth, ocean, environmental and planetary topics, including active volcanism, tropical ecosystem health, freshwater resources, climate change impacts on atmospheric and ocean chemistry, Earth's interior composition and more.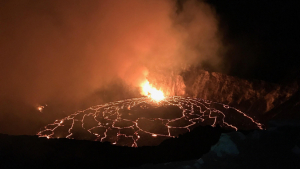 The local organizing committee was led by UH Mānoa Earth sciences professor Ken Rubin, and included UH Mānoa faculty from the Department of Earth Sciences and oceanography, as well as the Hawaiʻi Institute of Geophysics and Planetology.
"I have been working with partners in the state tourism industry and the societies since 2014 to bring this conference to Hawaiʻi, including postponing our 2020 plans due to the pandemic," said Rubin. "With the Goldschmidt Conference finally coming to town, I am excited that Hawaiʻi researchers can share their globally important work in a premier conference setting and that Indigenous science speakers are part of the program."
"I am so excited and proud that Hawaiʻi is host to this prestigious international meeting of geochemistry," said Garrett Apuzen-Ito, Earth sciences department chair in the UH Mānoa School of Ocean and Earth Science and Technology (SOEST). "This is an incredible opportunity to showcase our state to these world experts and highlight how so many of the world's natural processes are manifest here in Hawaiʻi and the surrounding Pacific environment."
Indigenous culture, science
The conference includes an innovative group of sessions on the intersectionality between Indigenous culture and science (Geology through a cultural lens – Diverse perspectives on the natural world), where community thought leaders from Hawaiʻi and elsewhere will discuss environmental processes from both scientific and cultural perspectives via presentations by local and other experts on societal concerns and creative solutions.
High school and college science instructors and students were invited to participate for free in this program through the generous support of SOEST and other donors.
For more information, see SOEST's website.
–By Marcie Grabowski