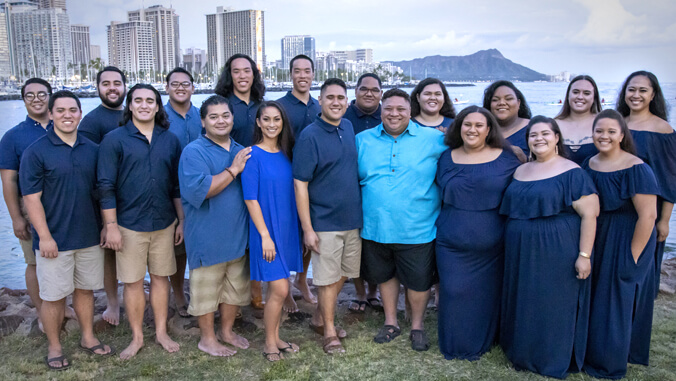 A traditional Hawaiian music group made up of students, alumni and faculty from the Kawaihuelani Center for Hawaiian Language (KCHL) at the University of Hawaiʻi at Mānoa captured a Nā Hōkū Hanohano award for Hawaiian Language Performance of the Year. The Tuahine Troupe accepted the coveted award on July 20 at the 45th annual awards ceremony hosted by the Hawaiʻi Academy of Recording Arts where they were also invited to perform during the opening ceremony.
"ʻOiai he makana "Nā Hōkū Hanohano" kēia no ka puana maiau o ka ʻŌlelo Hawaiʻi ma ka hīmeni ʻana, ʻaʻole loa no mākou ponoʻī wale iho nō kēia wahi makana akā, he makana nō hoʻi hā kēia e pahola ana ma luna nō o nā koa makeʻe mau no ka pono o ko kākou ʻōlelo aloha ~ ʻO ka ʻōlelo ka lei kāhiko e ʻike ʻia ai kākou he lāhui a no laila, e ola ka Lāhui Hawaiʻi i ko kākou ʻŌlelo Makuahine," said Keawe Lopes, an associate professor at KCHL of Hawaiʻinuiākea School of Hawaiian Knowledge and the director of Ka Waihona A Ke Aloha who formed the troupe.
The troupe garnered a total of eight nominations: Album of the Year, Group of the Year, Most Promising Artist, Hawaiian Music Album, Favorite Entertainer, Graphics, Haku Mele and Hawaiian Language Performance.
During the COVID-19 pandemic, the 22-member musical troupe exercised safety precautions while recording its very first album inside a brand new studio in Spalding Hall on the UH Mānoa campus.
Four of the 14 songs on the Nā Hōkū nominated album, Keāiwaokulamanu, are original compositions written by band members. While recording, Lopes required students in the troupe to concurrently complete the department's haku mele (song composition) course at UH Mānoa, which is formed around broadening language acquisition through learning traditional mele (songs) composed by mānaleo (native speakers).
The troupe's album pays homage to the ʻāina (land) of Mānoa, where the flagship campus sits. Every track on the album is either written about the area or by a composer who has called Mānoa Valley home. The deeply rooted tribute is even echoed in the troupe's name, tuahine, which is a traditional name used to identify a gentle rain that falls in the valley.