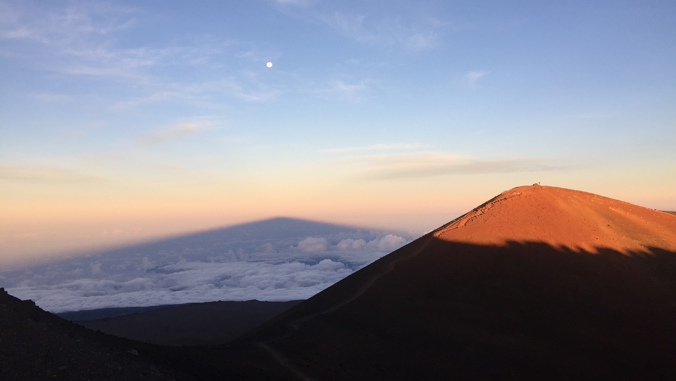 The state Board of Land and Natural Resources (BLNR) has approved the Comprehensive Management Plan (CMP) 2022 Supplement for University of Hawaiʻi managed lands on Maunakea. The CMP is used to manage multiple uses and activities on the approximately 11,288 acres of state conservation land leased to UH in order to protect and conserve the mauna's natural and cultural resources. The BLNR reviewed an updated CMP supplement and approved the motion on July 22, with four votes in favor and one member opposed.
The updated CMP was finalized after substantial public input from the community as well as several Department of Land and Natural Resources divisions including the State Historic Preservation Division, Office of Conservation and Coastal Lands, Division of Forestry and Wildlife, and Division of Conservation and Resources Enforcement. It was submitted to BLNR after garnering approval by the UH Board of Regents (BOR) at an open public meeting on May 19.
"The university has a vital kuleana (responsibility) to continue to care for Maunakea until that privilege is fully assumed by the new entity created under Act 255, which recently became law," said Greg Chun, executive director of the UH Hilo Center for Maunakea Stewardship. "The CMP is at the very foundation of our commitment to responsible stewardship upon these revered lands."
The BLNR-approved CMP supplement amends and updates two of seven sections (Management Environment and Management Component Plans sections) of the CMP that was originally approved by the BOR and BLNR in 2009.
Comprehensive Management Plan 2022 Supplement
The outreach process for developing the CMP supplement included a month-long public input period that started on March 1. This process provided various commenting opportunities, including invitations to meet and an online tool to make comments directly on the draft CMP supplement. Comments could also be provided via telephone messages and by mail.
The CMP is required by BLNR to satisfy the requirement for a "comprehensive management plan" under its conservation district rules. The preparation of the CMP supplement was guided by the CMP monitoring, evaluation and update process.
Many of the Center for Maunakea Stewardship's most critical programs were a result of the CMP including the Maunakea Rangers, historic property monitoring, invasive species management, native species monitoring, native plant restoration, habitat monitoring and research, community outreach and educational signage.
New management authority
Following the 2022 State legislative session, Gov. David Ige signed HB 2024 into law as Act 255, which transfers stewardship and management of Maunakea from UH to a new authority. Members of the new authority will fully assume management of the mauna in 2028. Until then, the university will continue its kuleana to care for Maunakea and all who enter this precious wahi pana (storied place) jointly with the new authority.