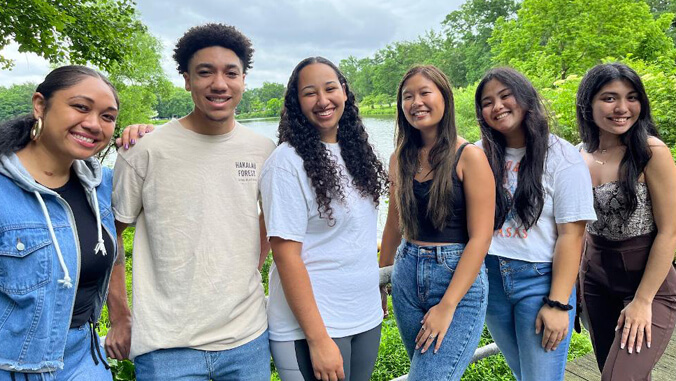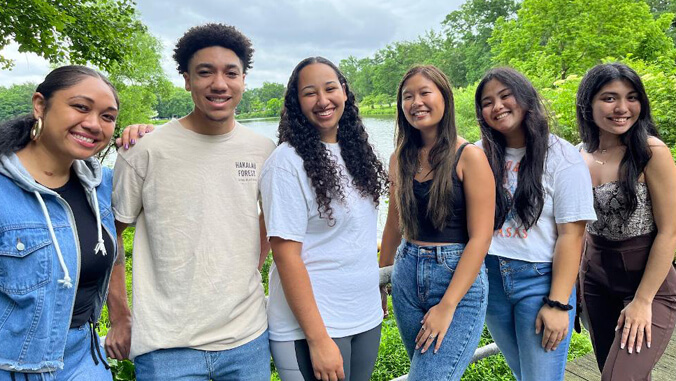 Six undergraduate students and two staff from an inaugural leadership program at the University of Hawaiʻi at Hilo traveled to Ewing, New Jersey to attend a national conference to sharpen their skills in community-engaged learning. Members of the UH Hilo Bonner program participated in the 2022 Bonner Summer Leadership Institute (SLI), held June 16–19.
The Bonner Foundation is a national organization that sustains partnerships with colleges and universities to promote college access, diversity and inclusion and student success through civic engagement and learning. The Summer Leadership Institute is an annual event that is hosted by one of the institutions in the Bonner Network. This year, representatives from 52 colleges and universities gathered at The College of New Jersey to participate in the first in-person Bonner event since 2019.
The six students who attended the conference as UH Hilo's first cohort of Bonner Leaders are:
Amena Tep, a senior majoring in political science and administration of justice, from Dallas, Texas
Isabella "Bella" Chapman, a senior in marine science who is minoring in political science and English, from Rome, Georgia
Carley Atkins, a junior in Hawaiian studies, from Hilo,

Hawaiʻi

Devin Brown, a junior in geography, from Seattle, Washington
Evonne Fronda, a junior in accounting, from Waikoloa,

Hawaiʻi

Lavinia Manufekai, a senior in political science and administration of justice, from Hilo,

Hawaiʻi
Learn more about UH Hilo's Bonner Leaders.
This year's conference theme celebrated the resiliency and strength of the Bonner community and the return of in-person national Bonner gatherings.
Amazing experience
Chapman was selected as one of two student keynote speakers who discussed topics of resilience.
"Getting to act as a student keynote speaker and share the examples of resilience in the Hawaiian community was an incredible opportunity," said Chapman. "The meaningful feedback from fellow Bonners in response to the speech was incredible and an amazing experience."
The conference's plenary sessions and elective workshops covered student leadership development, community-engaged learning, salary negotiation, social action and more. Participants also had opportunities to network with other students and staff through a variety of social activities and excursions.
Manufekai said, "I have never been to the mainland at all. The Bonner SLI 2022 showed me that there is way more outside of Hawaiʻi. I think we all learned about ourselves more."
"It was amazing to come together as a cohort and build our skills together amongst other Bonners around the country," said Tep. "This event shaped us for the better."
The UH Hilo Bonner program will welcome a second cohort for fall 2022. The current Bonners will serve as mentors and both groups will work together to shape the program for future students.