The nation's and Hawaiʻi's first Youth Impact Program (YIP) for girls was launched at the University of Hawaiʻi at Mānoa in July, with Rainbow Wahine Head Basketball Coach Laura Beeman taking the reins. About 100 girls ages 10 to 14 from disadvantaged backgrounds throughout the state participated in the innovative nine-day camp focused on STEM-based academics, leadership skills and athletics.
This groundbreaking event marked a significant achievement for YIP and UH on the 50th anniversary of Title IX, the gender equity law that dramatically increased participation of girls and women in sports.
YIP was founded by Super Bowl champion and Polynesian Hall of Famer Riki Ellison with a mission to provide inclusion, equity and opportunity to at-risk middle school youth nationwide. Since 2006, 44 programs at 15 prominent universities have been conducted. Transformative youth development camps have been held for boys for 18 years, and the Rainbow Warrior football team has hosted 400 youth in the Hawaiʻi YIP for boys in the last five years.
Academics, leadership and basketball
"It's a busy time of year, but finally I said, 'I want to do this, my staff wants to do this,'" said Beeman. "My players are amazing role models. We want to do this and started talking as a team, what YIP is and why are we doing it for the boys and not the girls?"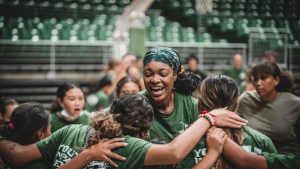 Beeman along with her Rainbow Wahine and Big West Champion student athletes and staff inspired the student participants throughout the camp, offering basketball tips and helping them with math, reading and life skills.
The STEM-based curriculum also included the guidance of Hawaiʻi Department of Education teachers and nine special guest speakers who covered topics on positive social interaction, improv and mental health to encourage, educate and inform the young women.
The life skills, character and leadership development sessions were provided by mentors from U.S. Army Pacific represented by 8th Theater Sustainment Command, 94th Army Air and Missile Defense Command; Marine Corps Hawaii represented by Combat Logistics Battalion 3; and the UH Mānoa Army ROTC Warrior Battalion.
Female role models
The program also included a "Pearl Harbor Experience" field trip for the students to learn about military historic sites and centers, as well as explore a number of STEM career opportunities in aerospace, maritime and high-tech.
Students heard from female role models, including Army Major General (Ret) Suzy Vares-Lum, the first female General Officer commissioned from UH Manoa's Army ROTC program, and now president of East-West Center, and Lt. Col. BJ Itoman, former ALL-Western Athletic Conference Rainbow Wahine point guard and currently a C-18 Globemaster pilot in the Hawaii National Guard.
"The opportunity is what this camp is about. It's about exposure, it's about laying a foundation, it's about saying to each one of these young ladies, we're giving you the opportunity to go back to your school and be a leader in your classroom," said Beeman.
Parents of youth participants surveyed agreed that the program had positive impacts on their daughters, while the youth participants agreed the program increased their knowledge, understanding and ability to be a better person.
A participant stated, "When people say I can't do something, I will show them a girl can do anything! I will respect everyone!"
For more, go to the YIP website.