WE(ED)S, a "sidewalk-to-table" project aimed to upend the bad reputation of pesky weeds, has inspired two University of Hawaiʻi at Mānoa professors to show the public how to identify some of Hawaiʻi's most common edible weeds and prepare and cook them into delicious meals.
The project offers in-person cooking demonstrations, recipes, tastings, cooking videos, participation in art exhibitions, hosted dinners and more. Some of the online cooking recipes include: ivy gourd shoots with eggs and rice, amaranth stir fry and how to eat purslane.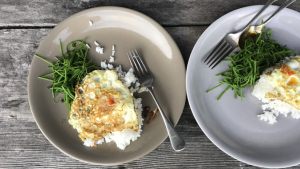 Gaye Chan, interim associate dean for administration and operations in the College of Arts, Languages & Letters and professor in the UH Mānoa Department of Art and Art History, co-founded EATING IN PUBLIC in 2003, with WE(ED)s as one of the pilot projects. Bundit Kanisthakhon, an assistant professor in the School of Architecture, has been working with WE(ED)S for the past five years. Together Chan and Kanisthakhon have been giving cooking presentations and tastings of edible weeds around Oʻahu.
"We are surrounded by amazing wild vegetation year round here in Hawaiʻi but we are taught to despise weeds," said Chan. "We pull them out. We pour poison into the soil. Many are edible, nutritious and delicious. Many are medicinal, attract pollinators and replenish depleted soil. We are rarely informed about this because the one thing that all weeds have in common is that they are free. Being able to get stuff for free is bad for capitalism."
Redefining weeds
Instead of defining some plants as inherently valuable and others as inherently destructive, the WE(ED)S project works on transforming the perception of weeds from being seen as threatening into a life-sustaining resource.
"For me, all these weeds are vegetables that I grew up with," added Kanisthakhon. "They're edible and full of nutrients. I was surprised when I learned that they're labeled as weeds and get eradicated here. I'm glad to be involved with WE(ED)S and help spread the word on the goodness of these vegetables and to contribute to the discourse on what it means to be foreign versus native."
Chan was inspired to start WE(ED)S because of the pernicious discourse of "invasive species" that has become popular in Hawaiʻi and a growing number of places across the world.
"Knowledge about edible weeds is timely for our current moment," said Chan. "Climate catastrophe, COVID-19, supply chain precarity, and intensifying nationalisms have made us more aware of our vulnerabilities than ever before. This moment, however, can also be a wake-up call to recognize that our collective survival depends on our cooperation, rather than competition, with each other."
There are hundreds of people who engage with EATING IN PUBLIC every day. Many are anonymous with projects happening simultaneously—freestores, free gardens, seed sharing stations, upcycling and more.
For more information or to get involved see the EATING IN PUBLIC website.