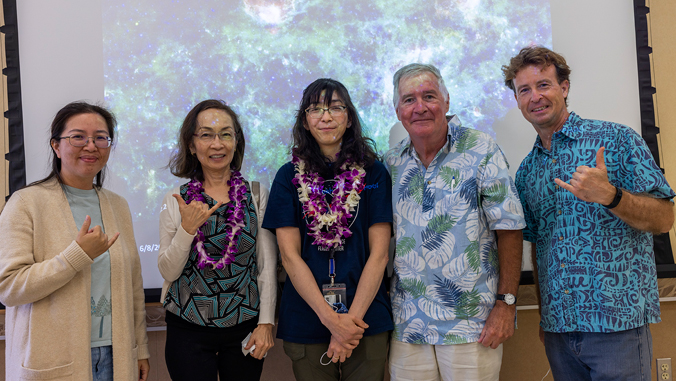 In a heartwarming homecoming, National Aeronautics and Space Administration (NASA) postdoctoral scientist Yukiko Yarnall met with students and faculty at Leeward Community College in June to share her research on interstellar and planetary ices and salts. Yarnall said she wanted to give back to the place that sparked her interest in science.
She first developed an interest in science while taking math and chemistry classes at Leeward CC, after enrolling in 2006.
"I was nervous when I returned to school because English is my second language and I was busy raising three small boys!" Yarnall recalled about her time at Leeward CC. "I struggled to understand school material but I enjoyed learning and meeting wonderful teachers and classmates. My best friend Coco, my study partner, and former math lab manager Jim Ogg, were life savers. Jim was a model math tutor and teacher—I use his techniques when I teach or tutor students. Michael Reese, my chemistry teacher, sparked my interest in chemistry, always welcomed my questions, and may have led me into my astrochemistry research at NASA."
Yarnall reunited with Ogg and Reese during her recent visit and said returning to the campus made her feel at home.
"It was great to see Yuki again," said Ogg. "She was an amazing math tutor when she worked at the Math Lab. Students really enjoyed working with her and so did I. Her energy was limitless. She was taking a full load of classes, raising three kids, and working as a peer tutor! She's an amazing person and I am very happy I had the chance to work with her in the Math Lab."
"Leeward is a wonderful school that gives all students an opportunity for the future, and I will never forget the time I spent there," Yarnall said.
The next generation
As she continues her research that directly supports NASA space missions, Yarnall hopes to someday analyze ices and salts collected from a comet in a future sample-return mission, because it is possible that comets delivered the precursor of organic molecules, which could have triggered life on Earth. She is passionate about educating the next generation about the wonders of space science, and sharing her knowledge with those of all ages.
While on her recent trip to Hawaiʻi, Yarnall also presented her current research to students at Waipahu High School.
"Dr. Yukiko's story of graduating from a community college and following her dreams to become a NASA scientist is a great inspiration to our students exploring STEM," said Waipahu's Early College Coordinator Steven De Silva. "Moments like these give students an opportunity to learn about themselves, their career interests and help them become more college and career ready after high school."
—By Tad Saiki