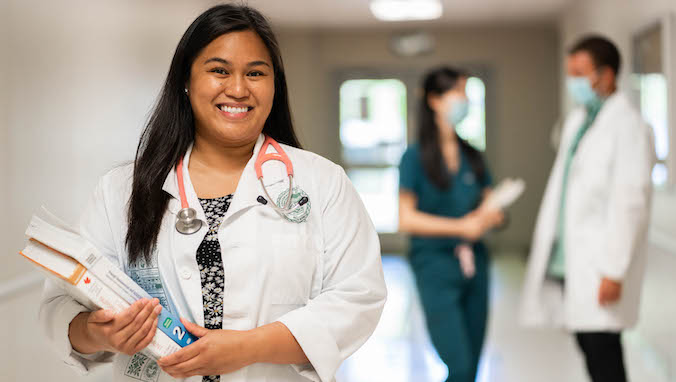 The healthcare communities in Hawaiʻi and around the world are demanding more trained nurses with at least a bachelor's-level education in nursing to manage increasingly complex healthcare issues at area hospitals and work sites. The Nancy Atmospera-Walch School of Nursing (NAWSON) at the University of Hawaiʻi at Mānoa is helping meet a state and national initiative to increase the number of bachelor's-prepared registered nurses (RNs) through the Online RN to Bachelor of Science program, designed to be an efficient bridge to earn a baccalaureate degree for associate degree in nursing (ADN) and diploma nurses.
Launched in fall 2021, the 30-credit program is available to UH students from UH Maui College, Kauaʻi Community College, Kapiʻolani CC and Hawaiʻi CC, as well as non-UH ADN graduates to pursue higher education, personal growth and strengthen professional development.
Since the program kicked-off in fall 2021, 50 students have entered with the first class of students graduating in May 2022. The first cohort represented a diverse set of individuals from various community colleges and places of employment.
"This new program is great because it gives nurses flexibility to achieve their goals of getting their bachelor's degree in nursing while adapting their studies to their work schedules or other personal responsibilities," said Michele Lani Bray, NAWSON assistant professor and Online RN to BS program director. "Additionally, neighbor island nurses can enroll in this online program which increases access to higher education while living and working in their home communities."
The landmark 2010 Institute of Medicine report on The Future of Nursing set a goal of 80% of practicing RN s to attain at least a bachelor of science degree by 2020. Hawaiʻi is still working to achieve this goal, with 75% of RNs in the workforce who have a bachelor's degree or higher.
"Nurses with ADN degrees usually work full-time jobs, and many go home to a full plate of family and parenting obligations which leaves little opportunity to go back to school to take in-person classes," said Katherine Finn Davis, NAWSON COLs Stephanie Marshall & Charles Miller Endowed Director of Community Partnerships & Specialist. "Specifically, in Maui and Kauaʻi counties, there are no face-to-face pre- or post-licensure BS in Nursing programs; therefore, online RN to BS programs are the only way for nurses in these counties to access BS education. Fortunately, many nurses are usually able to apply most of their associate degree credits toward a bachelor's degree."
According to the 2021 Hawaiʻi Nursing Workforce Supply Report by the Hawaiʻi State Center for Nursing, 77% of Hawaiʻi RNs who are currently enrolled in a degree-leading nurse education program are enrolled in online programs, indicating a strong preference among post-licensure nursing students to advance their education in online programs.
Earning credit through practical experience
The NAWSON Online RN to BS program delivers nursing courses in an asynchronous online didactic format (at your own pace for lecture-type instruction) with both part-time and full-time pathways. Students must also complete two in-person clinical nursing courses focused on population health and leadership. These clinical courses occur through existing NAWSON partnerships with community health organizations and healthcare agencies.
Students who already have nursing experience and career achievements may request credit for one of the two in-person clinical courses through submission of an e-portfolio demonstrating that they have met the learning objectives of that course. Enrollment in one of the two in-person clinical courses is required.
"This option helps to lower tuition costs and decreases time to graduation by using job experiences as a means to fulfill the student learning objectives," said Bray.
How to apply
Applications for fall (August) 2023 will be accepted beginning September 1, 2022, and are due January 5, 2023. Online information sessions will be held this fall.
For more information about the Online RN to BS program, including admissions requirements and deadlines, visit the NAWSON website. A full listing of online information sessions are available on the events page.