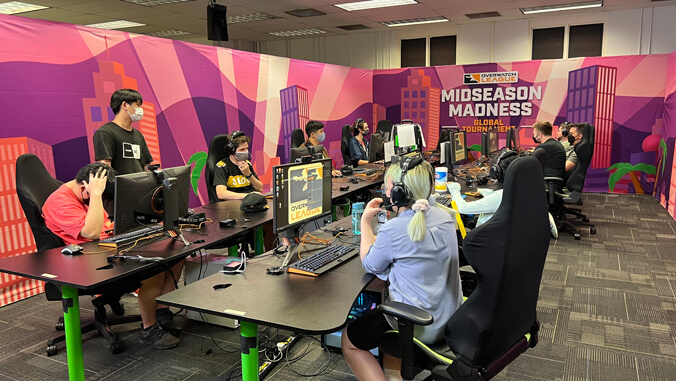 One of the largest international esports leagues held a regular season event at the University of Hawaiʻi at Mānoa for the second year in a row in July, giving students a rare opportunity to learn from the best in the skyrocketing esports industry. After working with UH Mānoa students, a manager with the Overwatch League described the students as "driven" and "selfless."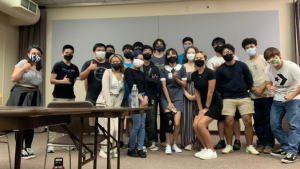 Global esports revenue is projected to reach $1.38 billion in 2022, up from $1.08 billion in 2021. Overwatch is one of the many games propelling the esports market. Kamehameha Schools Kapālama alumna Madison Edgar is events manager for Activision Blizzard, the developer of Overwatch. Edgar hosted a workshop for the students during Overwatch's visit to UH Mānoa and also managed the student interns throughout the tournament.
"I was shocked with the whole experience. We worked very, very long days and the students were right there with us, and even worked longer in some situations," Edgar said. "It also made me even more proud to be Hawaiian. It's the Hawaiian spirit. Yes, they all have what it takes to earn a career in esports, or anything they set out to achieve. I'm also more than willing to help any of the students achieve that. They know to reach out to me, and I really hope they do!"
"The return of Activision Blizzard to our campus only validates the unique partnership we have at UH Mānoa with one of the largest esports leagues in the world," said Nyle Sky Kauweloa, a spring 2022 communication and information sciences PhD graduate and head of the UH Mānoa Esports Task Force in the College of Social Sciences. "This year, not only have the students been able to learn, see and observe an industry that is still fairly 'black-boxed,' but the Overwatch League crew felt more comfortable this time around to give our students even more access and responsibilities with the competition operations of the event, giving our students a perspective on the industry that is hard to come by."
Eleven UH Mānoa esports team members and one student from UH West Oʻahu earned college credits serving as interns during the tournament. They helped set up computers and systems prior to the tournament, and then served as liaisons when the teams arrived, directing them to their playing locations and assisting them with anything they may have needed. Even though many of the students went into the experience prepared, there were hurdles that they needed to overcome, which further prepared them for a possible career in the industry.
"Working in esports is not always all that it is glamorized to be," UH Mānoa sophomore Jazmin Horio said. "It is a competitive, fast-paced industry that requires you to 'wear many hats' you did not expect to wear going into your position. Your soft-skills like adaptability, level-headedness and ability to work with others can be the deciding factor in companies wanting you, sometimes even over having all the hard-skills."
Horio added, "I would encourage anyone who finds themselves even a little intrigued by esports to take a deeper look into the scene. Reach out to the expanding esports program we have here at UH, you never know if you find that special spark within the industry that really speaks to you."
Read more about the esports program.
—By Marc Arakaki