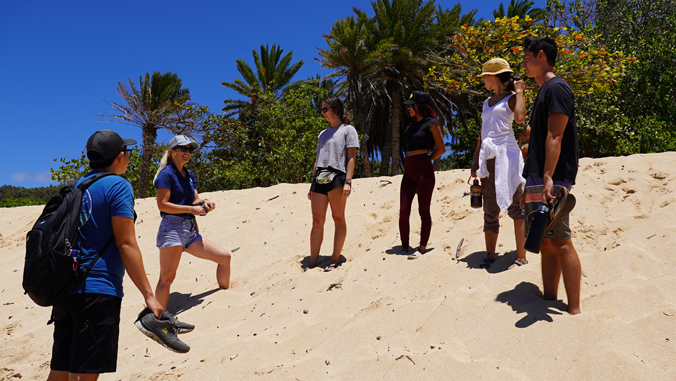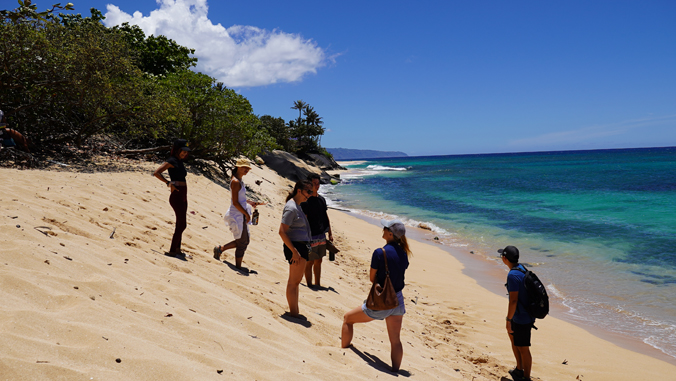 To address the impacts of climate change on Oʻahu, the University of Hawaiʻi Sea Grant College Program (Hawaiʻi Sea Grant) is highlighting efforts its experts are conducting around the island to tackle issues surrounding sea-level rise, coastal erosion and inland flooding.
On a field trip to Oʻahu's North Shore and Māpunapuna organized by Hawaiʻi Sea Grant on July 29, UH students and visiting fellows witnessed the impacts of climate change in Hawaiʻi.
Shellie Habel, a coastal geologist and extension faculty at Hawaiʻi Sea Grant, led and organized the site visit and extended opportunities for the five participants to learn more about coastal resilience and planning activities.
"It's really important that these participants see present day impacts of sea-level rise because they will be contributing to environmental management as part of their future careers," said Habel. "Today we observed the manifestation of impacts in the form of erosion and drainage related inland flooding, which are often not intuitively associated with sea-level rise."
Participants saw firsthand the coastal erosion that is taking place at Rocky Point. Homeowners are using shoreline hardening measures to help save their homes, but Habel said that was only a short-term solution to what will become a dire problem as climate change and sea-level rise continue in the future.
"Visiting the North Shore and Māpunapuna reminded me of the extremely difficult challenges that Hawaiʻi faces as sea-level rise and blue sky flooding gets more frequent and harder to manage," said Cuong Tran, a graduate student in UH Mānoa's urban and regional planning program in the College of Social Sciences and 2022 Grau Fellow. "To adapt to the climate crisis, we all must work together and be able to make tough decisions. I am optimistic that we will find creative solutions through the collaborative efforts put in by government, institutional and community partners."
Challenging the next generation of leaders
Participants were given the opportunity to ask questions and engage in dialogue with Habel. She challenged them to brainstorm innovative solutions as they become the next generation of environmental managers who will continue to address the challenges of climate change.
"I'm extremely grateful to Shellie for taking time to bring us to see the endangered site on the North Shore—seeing these situations in person evokes such a visceral response that inspires me to continue in this field (environmental policy/administration) and to foster the relationships that need to exist in order for us to protect coastlines and coastal communities," said Sarah Chin, a visiting 2022 Rappa Fellow from Columbia University.
The field trip included a quick stop through Oʻahu's industrial district in Māpunapuna to see the effects of inland flooding in low-lying areas. King tides and higher water levels are becoming more frequent and provide a snapshot of the future and what could eventually become commonplace.
"It is crazy to see the erosion on the North Shore and the inland flooding in Māpunapuna because those sites are indicators of how sea-level rise will impact the island," said Joel Burgess, a third year law student at UH Mānoa's William S. Richardson School of Law and 2022 Rappa Fellow. "The biggest takeaway for me is that climate change is already here, so we cannot afford to waste any more time to take action."