Editors note, August 10: NASA postponed the August 10 launch until August 11, due to bad weather at Wallops Flight Facility.
Editors note, August 9: NASA postponed the August 9 launch until August 10, when payload recovery conditions are projected to be more favorable.
A team from the University of Hawaiʻi Community Colleges has spent the past week at NASA's Wallops Flight Facility in Virginia preparing for a rocket to launch the scientific experiment they designed and built into space. Launch is scheduled for August 9, between 5:30–9 p.m. EDT (11:30 a.m.–3 p.m. HST), with live coverage on the Wallops YouTube channel.
Project Imua is a faculty-student enterprise of multiple UH Community College campuses in affiliation with the Hawaiʻi Space Grant Consortium that provides students with real-world, project-based learning opportunities. This includes experimenting with high-power rocketry, and designing and fabricating small payloads for space flight. In the Hawaiian language, imua means to move forward.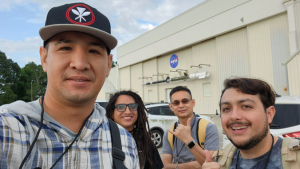 The Project Imua Mission 10 students have been collaborating for months. Windward CC students designed and built a camphor-powered sublimation rocket that should be deployed at the peak of the NASA rocket's flight—at approximately 91 miles altitude. The Honolulu CC team designed a camera system and inertial measurement unit devices to monitor the sublimation rocket's motion.
Their experiment is one of six developed by college and university teams across the nation that will launch on a 44-foot-tall Terrier-Improved Malemute sounding rocket. After reaching its peak, the payload carrying the experiments will descend by parachute and is expected to land in the Atlantic Ocean, about 64 miles off the Virginia coast. The students will receive their flown experiments and any stored data after the payload is recovered from the ocean.
"I'm looking forward to launch because of all the hard work we've put into this project to really make sure it succeeds," said Honolulu CC student Frank Bolanos IV. "There's a lot of work that went into it and a lot of time and waiting and excitement. So to see it actually go up is going to be incredible."
The experiments are being flown through the RockSat-X program in conjunction with the Colorado Space Grant Consortium. RockSat-X gives students at post-secondary institutions the experience of building experiments for space flight.
"RockSat-X provides students an opportunity to improve their skills through experiment development and then analyzing their data following the launch," said Giovanni Rosanova, chief of the Sounding Rockets Program Office at Wallops. "Programs like these are vital in preparing students for careers after graduation."
Mission 10 represents the fourth time that a UH Project Imua payload will be launched into outer space. The first Project Imua payload was launched from Wallops in 2015.
NASA's announcement of the August 9 launch includes a list of other participating institutions and descriptions of the students' spaceflight technology projects.
—By Kelli Abe Trifonovitch