Mission accomplished! At 12:08 p.m. HST on August 11, 2022, a 44-foot NASA sounding rocket blasted off from Wallops Flight Facility in Virginia carrying a scientific experiment designed by University of Hawaiʻi Community College students about 91 miles into space.
Project Imua is a joint faculty-student enterprise of multiple UH Community College campuses in affiliation with the Hawaiʻi Space Grant Consortium that provides students with real-world, project-based learning opportunities. Students from Windward CC and Honolulu CC had been working on Project Imua Mission 10 for months and were delighted to see their "baby" finally take flight.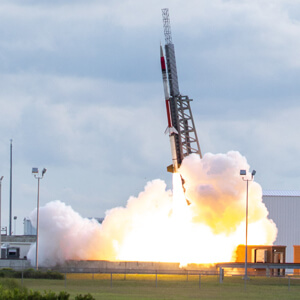 Windward CC students designed and built a camphor-powered sublimation rocket that was deployed at the peak of the NASA rocket's flight—at approximately 91 miles altitude. The Honolulu CC team designed a camera system and inertial measurement unit devices to monitor the sublimation rocket's motion.
Project leader Jared Estrada, a Windward CC student, said, "The launch was an amazing spectacle that served as a crowning achievement for the scientific endeavors of Project Imua."
Project Imua provided hands-on rocketry experience both in Hawaiʻi and at NASA. In June, two students traveled to the Wallops facility to run final tests on their Project Imua payload.
A few days prior to the launch, the rest of the Project Imua team was in Virginia for fine tuning and final integration.
"The hands-on, authentic research conducted by our UH Community College students challenges them to set their sights on lofty goals, while building the demanding skills required in high-tech, STEM careers," said Project Manager Joe Ciotti, a Windward CC professor. "They've learned through their intense year-long collaboration with NASA engineers that, when it comes to dreams and achievements, the sky's the limit."
After reaching its peak, the payload carrying the experiments descended by parachute and landed in the Atlantic Ocean, off the Virginia coast. Plans were for the students to receive their flown experiments and any stored data after the payload was recovered from the ocean.
More Project Imua missions are scheduled to fly for UH's future rocket scientists.
—By Kelli Abe Trifonovitch