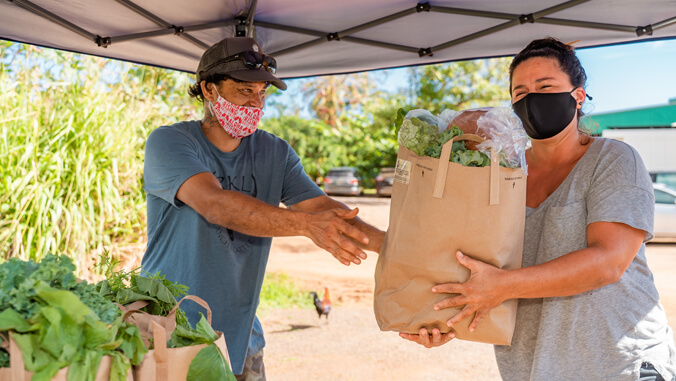 Experts will discuss the root causes and systemic solutions to household food insecurity in the inaugural event of a 10-part speaker series called, "The Future of Food & Agriculture in Hawaiʻi." The event will be held on September 16, 5–8 p.m. at Ka Waiwai (1110 University Avenue, Suite 100).
The series is designed to generate opportunities for community dialogue among a diverse audience, ultimately aiming to achieve a more healthy, equitable, resilient and sustainable food system for Hawaiʻi.
"Current scientific findings raise critical questions as to the health, equity, resilience and sustainability of Hawaiʻi's food system," said University of Hawaiʻi–West Oʻahu Assistant Professor Albie Miles. "It is unclear if the current system is capable of adapting to the anticipated impacts of climate change and meeting the long-term economic, ecological, cultural, public health and food security needs of our state."
Speakers for the first event titled, "Food Insecurity in Hawaiʻi: Understanding Root Causes and Systemic Solutions" are Catherine Pirkle, associate professor in health policy at UH Mānoa, and Amy Marvin, president and CEO of the Hawaiʻi Food Bank. Brittany Lyte, a Honolulu Civil Beat reporter, will moderate.
The event is free, with online registration for both in-person attendance or a recording of the discussion. Doors open at 5 p.m. for activities and booths. Speakers start at 6 p.m, Mahina Paishon-Duarte of Waiwai Collective will host an optional post-discussion community forum 7–8 p.m.
The series, which runs through June 2023, is presented by The Hawaiʻi Institute for Sustainable Community Food Systems at UH West Oʻahu, Honolulu Civil Beat, UH Better Tomorrow Speaker Series and Waiwai Collective.