To foster a transfer pathway from the University of Hawaiʻi Community Colleges to geoscience degree programs at UH Mānoa, with a focus on Native Hawaiian and other underrepresented students, the six-week course "Mauka to Makai" was offered to engage students in a place-based oceanography curriculum grounded in Native Hawaiian values.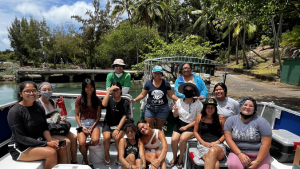 Through the Department of Oceanography, 10 UH community college students shared the ʻike (knowledge) they gained through the course during the Summer Bridge Hōʻike (exhibit).
The course is part of the National Science Foundation project "Halau Ola Honua, Our Living World"—a statewide collaboration among Windward Community College, UH Mānoa, Honolulu CC and Kauaʻi CC.
Immersed in the natural environment
In addition to traditional lectures and laboratories, the students engaged in mālama ʻāina (stewardship of natural/cultural resources) as well as independent research.
"Our students utilized contemporary instrument observations to characterize the chemical, physical and biological properties of two ahupuaʻa and nearshore areas," said Rosie Alegado, co-principal investigator of the program and associate professor in UH Mānoa's School of Ocean and Earth Science and Technology (SOEST) oceanography and UH Sea Grant College Program. "They analyzed and developed independent projects around these data and shared their findings at the Hōʻike. This created an opportunity for students to have an authentic research experience that connected cultural heritage, scientific investigation and human impacts on a watershed."
Funded as part of an award from the National Science Foundation Tribal Colleges and Universities Program, this approach provides hands-on learning, wherein the students are immersed in the natural environment. A unique aspect of the course is its connection with community groups involved in the preservation and restoration of traditional Hawaiian resource management practices in watersheds and coastal waters of Oʻahu.
Creating lifelong knowledge, connection
During the Hōʻike, Michael Guidry, program co-investigator and chair of the SOEST Global Environmental Sciences program, shared that the instructor team—Alegado, UH Mānoa graduate student Kuʻi Keliipuleole and Leeward CC instructor Donn Viviani—put forth a phenomenal effort to make this a success. The students completed the course with new knowledge, lifelong connections and a network of scientists, cultural practitioners and community groups, he added.
"Our Mauka to Makai summer oceanography program was offered in 2018, 2019 and 2022," said Margaret McManus, program co-investigator, professor and chairwoman of the SOEST Department of Oceanography. "I am so pleased to see several students from our 2018 and 2019 programs continuing their education in geoscience degree programs at UH Mānoa. We hope that students from our 2022 class will also join us in the future!"
"Historically, Native Hawaiians and other ethnic minority groups, including Pacific Islanders, Filipinos, Hispanics, African Americans and Native Americans, have been underrepresented at both the undergraduate and graduate levels in SOEST," said Alegado. "Our goal is that efforts like this will nurture Hawaiʻi's local talent so that kamaʻāina students will be empowered to become the leaders we need to face the challenges ahead."
–By Marcie Grabowski