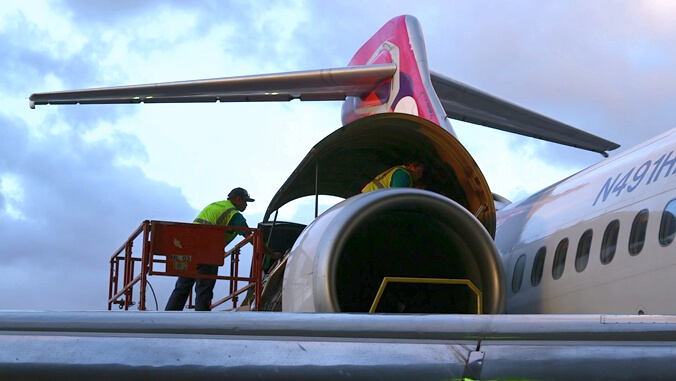 Boeing estimates that 610,000 aviation maintenance technicians will be needed over the next two decades to support the growing global aviation industry. To meet this soaring demand, Hawaiian Airlines and Honolulu Community College have formed an innovative partnership to graduate more local students as highly skilled aviation maintenance technicians.
Some Hawaiian Airlines aviation maintenance technicians will be trading the carrier's aircraft hangar for Honolulu CC's facilities as instructors in fall 2022. Hawaiian's Bill Kinsley and Jason Anderson will be teaching classes for Honolulu CC's Aeronautics Maintenance Technology (AERO) program, allowing it to double enrollment to 100 students by fall 2023.
"We are enthusiastic to have our employees share their expertise to inspire and prepare Hawaiʻi students for successful careers in aviation," said Jim Landers, senior vice president of technical operations at Hawaiian Airlines. "As the hometown airline gearing up for another growth phase, we also hope Honolulu CC's graduates will consider joining our ʻohana so they can enjoy a rewarding career right here at home with Hawaiʻi's carrier."
Graduates of the AERO program will be prepared with the knowledge and practical skills necessary to obtain the FAA Airframe and Power Plant Maintenance certification and pursue high-paying aviation jobs.
"We are grateful for this partnership with Hawaiian Airlines, which perfectly blends the strengths of each of our institutions. Our goal at Honolulu Community College is to not only provide students with a valuable education, but also a pathway to a meaningful and productive career," said Karen C. Lee, interim chancellor at Honolulu CC. "Our AERO program is the only one of its kind in the Pacific Basin, so this unique initiative will allow us to educate and train more aviation technicians who are ready to enter the workforce in Hawaiʻi".
The new partnership builds on Hawaiian's Aircraft Mechanic Apprenticeship Program launched in 2016 in collaboration with Honolulu CC and the International Association of Machinists and Aerospace Workers union. Students in the apprenticeship program take Honolulu CC courses during the day as well as hold a part-time shift at Hawaiian's aircraft maintenance hangar, where they get paid as mechanics performing hands-on repair and preventative maintenance.
More information about Honolulu CC's AERO program can be found on the AERO program website.