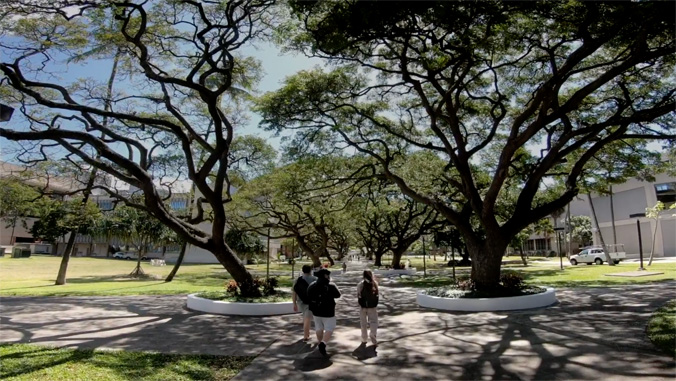 This message was shared with the students of the University of Hawaiʻi at Mānoa on August 22, 2022.
Aloha UH Mānoa students,
I am so pīhoihoi (excited) to welcome all of you back to our beautiful campus as we start the fall 2022 semester. So much has happened over the last two and half years, and, to make it back to this point—a full return to on-campus instruction and activities—is an important milestone.
Although the COVID-19 pandemic is not quite fully behind us, there are silver linings from the pandemic that have improved the student life experience here at UH Mānoa. We now offer more online and hybrid courses compared to before the pandemic, providing more flexibility and modes of education.
We took full advantage of the past two years to renovate buildings, pave campus roads, trim trees and much, much more. The campus, already considered one of the most beautiful in Hawaiʻi and the U.S., has never looked better. There are new facilities for our students to enjoy, such as the state-of-the-art Life Sciences Building, and others on the way, including the Sinclair Student Success Center.
Whether you are a new or returning student, take full advantage of this period in your life and get involved! Join one of our many student organizations, look for opportunities to participate in the world class research UH Mānoa is known for, get involved in ʻāina and community-based projects, and attend a sporting event right here on campus. Cheer on the Rainbow Warriors football and Rainbow Wahine volleyball teams, and, next semester, watch the two-time defending national champions men's volleyball team. Join an intramural sports team yourself, catch a performance at Kennedy Theatre or Orvis Auditorium, consider studying abroad for a semester, and the list goes on and on.
There are a wide range of resources available to support your wellness and academic needs, and to help you adjust to college life. Those resources include mental health services, academic advising, tutoring, veteran services, campus employment, career planning and more. Visit our Student Success website for an overview of all of our programs.
I encourage everyone to attend today's annual Welina Mānoa: And the Adventure Begins Kick-Off, a welcome back to school event from 3:30 to 6 p.m. at Campus Center. It's a campus wide resource fair with great food, entertainment and prizes. Also, please keep an eye out for the What's up this week @Mānoa weekly email for UH Mānoa students that will feature all you need to know information, including important dates, campus events, opportunities and resources.
Keep up with your studies, stay focused on graduating on time and make the most of your experience here at UH Mānoa. Like so many of my colleagues, I remember my college years as among the best in my life, with friendships that persist even to this day. I wish the same for all of you, and I know that I speak for every one of our faculty, staff and administrators when I say that we are here to support you every step of the way on this exciting journey!
Mahalo,
Michael Bruno
UH Mānoa Provost