Pū kani (conch shell) and oli (chants) echoed through the piko (center) of the Kapiʻolani Community College campus just after sunrise on August 17 to mark the beginning of Pōkinahua, a traditional Hawaiian ceremony honoring aliʻi (chiefs). About 100 faculty and staff observed the protocol to help usher in the fall 2022 semester and celebrate the naming of the Great Lawn, Makahiapo, which means first-born child.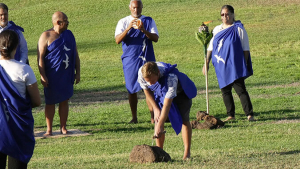 The sprawling lawn is at the center of the campus and is the backdrop for a wide array of events held at the college. Nāwaʻa Napoleon, dean of arts and sciences at Kapiʻolani CC organized the special ceremony alongside members of the college's Native Hawaiian council, ʻAha Kalāualani.
"The Great Lawn has been named the most cherished place on campus when we did a long range development plan in 2010. We felt it was the time to honor it, give it a name and use the occasion to bring the faculty and staff back together again," Kapiʻolani CC Chancellor Louise Pagotto said. "What we want is to also integrate Hawaiian values into our daily operations on the campus, and this occasion marked how that can be done."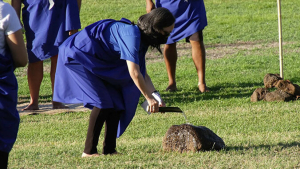 To help convey a deeper symbolism to the meaning behind the lawn's new name, organizers identified 15 faculty and staff members who are makahiapo or first-borns in their ʻohana to take part in a special portion of the ceremony. Each person selected represented one of the 15 kaʻānaniʻau (traditional name for ahupuaʻa or land division on Oʻahu) within the moku (district) of Kona where Kapiʻolani CC sits. A majority of the participants also reside in the kaʻānaniʻau they represented.
Maunalua—Maria Bautista
Moanalua—Austin Anderson

Kuliʻouʻou

—Louise Pagotto
Kahauiki—Carl Jennings
Niu—Laure Burke/Lisa Kobuke
Kalihi—Mark Kunimune
Wailupe—Rosalie Fernandez
Kapālama—Darsh Davé

Waiʻalae

Iki—Erica Dias

Nuʻuanu

—Drew Broderick

Waiʻalae

Nui—Lisa Aganon
Pauoa—Alison Ohata
Pālolo—Lisa Kanae
Makiki—Romyn Sabatchi
Mānoa—Annie Keola Thomas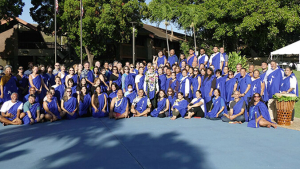 Bedecked in blue kīhei, faculty and staff poured fresh water brought from their kaʻānaniʻau onto an ahu (altar) sitting in the center of the lawn. The water, collected from ua (rain) or pūnāwai (water spring) of each kaʻānaniʻau, was carried in ʻohe (bamboo) which embodies the Hawaiian god Kāne.
"The fact that I was still part of today and I am here and my colleagues are so uplifting and it just makes me want to start the semester," said Burke, a hospitality and tourism professor. "I just can't wait for the students to come back and share the positive energy that has begun today."
Part of the ceremony also paid homage to Pagotto who will retire this December after a 33-year-long career at Kapiʻolani CC. Faculty and staff chanted to the respected scholar while they adorned her with lei.
In 2015, Pagotto advocated to have a handbook created to help Kapiʻolani CC students, faculty and staff connect with the campus' cultural roots and history. The idea for the handbook came after she read a similar book while visiting Waiariki Institute of Technology in Rotorua, Aotearoa. ʻAha Kalāualani published the 88-page bilingual handbook, Ka Wehena Kaiao (Breaking of Dawn), in 2021 which covers the ʻāina (land) the campus sprawls across, lawena waiwai (values), mele (songs) compositions and historical footprints.