The University of Hawaiʻi at Mānoa kicked off the first day of the fall 2022 semester with a big celebration to welcome all students back to campus for the first time since March 2020 and the start of the COVID-19 pandemic.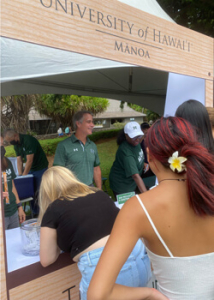 An estimated 3,500 students, faculty, staff and community members attended the Welina Mānoa: First Day of School Kick-Off Event at Campus Center, Legacy Path and the Kuykendall Hall lawn in the heart of the Mānoa campus.
Hundreds of volunteers staffed more than 100 booths creating a one-stop resource fair for students that featured clubs, activities, resources, programs, student organizations, games and prize giveaways along with delicious food and music courtesy of KTUH, UH Mānoa's student-operated radio station. The late afternoon event was capped off by a well-received performance from the UH band, cheerleaders and Rainbow Warrior Dancers, where students learned the UH fight song.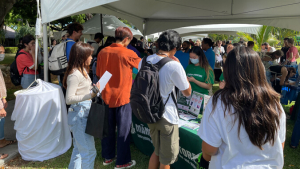 "This is honestly a lot of fun, I am having a great time," said freshman Leah Camphor. "I didn't know there was a space flight club and I just joined the powerlifting club. I don't powerlift, but here I am now."
"Lots of nice people, everyone is really welcoming," said fellow freshman Bobby Jones. "I visited all the booths, there is a lot of community, a lot of support, just trying to reach out to the students, and help them out anyway possible."
The last Welina Mānoa event was held in 2019. Along with the start of the school year, this year's event also celebrated a return to normal campus life that had been disrupted by the COVID-19 pandemic.
"The entire campus has come back in person," said UH Mānoa Provost Michael Bruno. "We have been waiting two-and-half years for this. Everybody is excited. Spirits are high."
Camphor, who just moved to Hawaiʻi from Maryland to attend UH, could not agree more.
"It feels amazing because junior and senior years [of high school] were both affected by COVID so having a freshman year in college at a campus like this one is honestly amazing," said Camphor.
The annual event is organized by the Office of the Vice Provost for Student Success in collaboration with more than 100 other UH Mānoa units, clubs, organizations, etc.