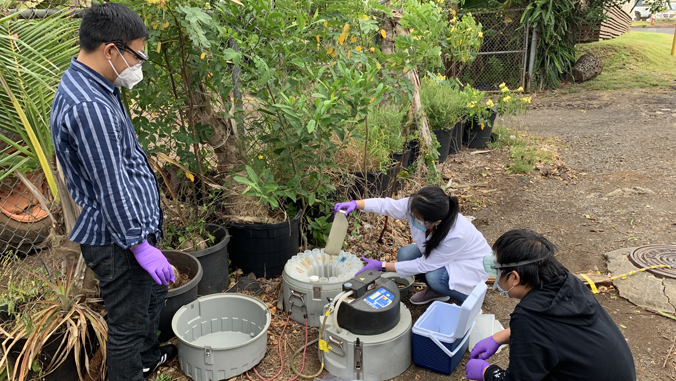 University of Hawaiʻi at Mānoa researchers are analyzing wastewater collected in Honolulu for the COVID-19 virus and its properties to gain a greater understanding of the virusʻs community spread. The technique that may be utilized in the future to measure the presence of other types of viruses.
The project, led by UH Mānoa Department of Civil and Environmental Engineering and Water Resources Research Center Professor Tao Yan, began in mid-2020, just several months into the pandemic. The team partnered with the City and County of Honolulu to collect wastewater samples. Thirteen samples taken from the Sand Island Wastewater Treatment Plant between June and December 2020 were analyzed in a laboratory at UH Mānoa.
The researchers discovered that the D614G mutation was the most prevalent mutation in those samples. According to Yan, the D614G mutation has now been found in 15 COVID-19 variants of concern, including Alpha, Beta, Delta, Epsilon, Eta, Gamma, Iota, Kappa, Lambda, Mu, Omicron BA.1, Omicron BA.2, Omicron BA.3, Theta and Zeta. Detecting the mutation is one of the indications that the virus continues to evolve.
Yan's team is also currently analyzing previously collected wastewater samples from locations within UH Mānoa student housing and the Mānoa Valley watershed/sewershed. They are hoping to determine if the SARS-CoV-2 viral mutations collected in Mānoa are different from those collected from the Sand Island samples and how different mutations emerged from the beginning of the pandemic.
"This virus will continue to mutate, and some more ominous variants may emerge as a result," Yan said. "Wastewater surveillance has the potential to provide comprehensive and even early detection of mutations. What we have done is to use past samples and data to develop and calibrate the tools, and the next step will be to use them for forecasting."
Yan's research team includes postdoctoral researchers Doris Di and Bo Li, and graduate research assistant Min Ki Jeon.
Related UH News stories: