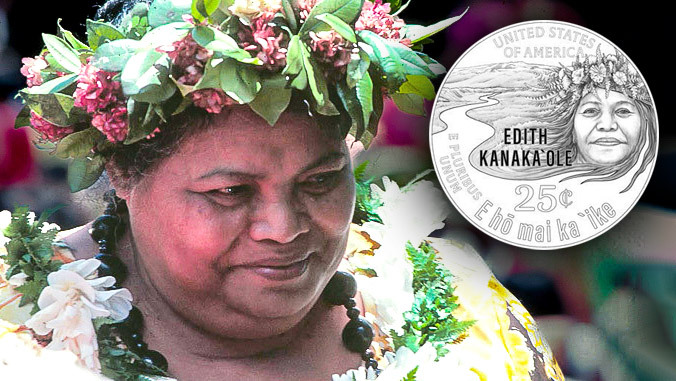 The U.S. Mint released the design for a commemorative quarter honoring former University of Hawaiʻi instructor and late legendary kumu hula Edith Kanakaʻole. The award-winning composer who taught at Hawaiʻi Community College and the University of Hawaiʻi at Hilo, is one of five American women to be minted on new quarters as part of the 2023 honorees for the American Women Quarters™ Program. She joins fellow honorees such as former first lady Eleanor Roosevelt and Maria Tallchief, America's first Native American prima ballerina.
"The fact that the design depicts the volcano, flowing lava, and Aunty Edith on the small face of a coin is extraordinary. Cannot have one without the other," said Taupōuri Tangarō, a Hawaiian studies professor at Hawaiʻi CC and director of Hawaiian culture and protocols engagement. "Edith is very much her natural environment as she is our mother, grandmother, great grandmother, hula matriarch, college instructor and Indigenous influencer."
During her time at Hawaiʻi CC and UH Hilo, Kanakaʻole developed a variety of courses on ethnobotany, Polynesian history, genealogy and Hawaiian chant and mythology. To honor her monumental contributions to the UH Hilo campus and community, the humanities building at UH Hilo, which houses subjects such as languages, English, philosophy and kinesiology, is named in honor of the Keaukaha native.
The newly designed quarter will also feature an inscription in ʻōlelo Hawaiʻi (Hawaiian language), "e hō mai ka ʻike" or "granting the wisdom." The phrase comes from a well-known oli (chant) Kanakaʻole composed that asks for knowledge to be bestowed upon the chanter.
"She helped preserve and spread Hawaiian language, traditions, and history, contributing so much to the Native Hawaiian community, Hawaiʻi, and our nation," said U.S. Sen. Mazie K. Hirono, who urged the U.S. Mint to feature Kanakaʻole. "It is fitting that she be honored with this special recognition."
Kanakaʻole founded Hālau o Kekuhi, an internationally acclaimed dance company known for its ʻaihaʻa or low-postured, bombastic style of hula. The Edith Kanakaʻole Multi-Purpose Stadium in Hilo where the world-famous Merrie Monarch Hula Festival is held is also named in her honor.
In the late 1970s, Kanakaʻole recorded Hiʻipoi I Ka ʻĀina Aloha (Cherish the Beloved Land), which later captured a Nā Hōkū Hanohano award for Best Traditional Album of the Year. The album features mele (songs) that express her love for the land and includes compositions such as "Ka Uluwehi O Ke Kai" that celebrate the various limu of the sea, and is also a popular song performed by hula dancers of all ages.
Kanakaʻole died in 1979.