Construction of the second and final phase of the photovoltaic (PV) canopy project on the University of Hawaiʻi at Mānoa lower campus parking structure was completed in August 2022. When the electrical interconnection is completed in December 2022, the PV system will generate over 4-million kilowatt-hours per year (kWh/yr) of electricity, enough to power 1,000 homes or 300,000 laptops a year. The UH Mānoa campus uses an average of about 120-million kWh/yr.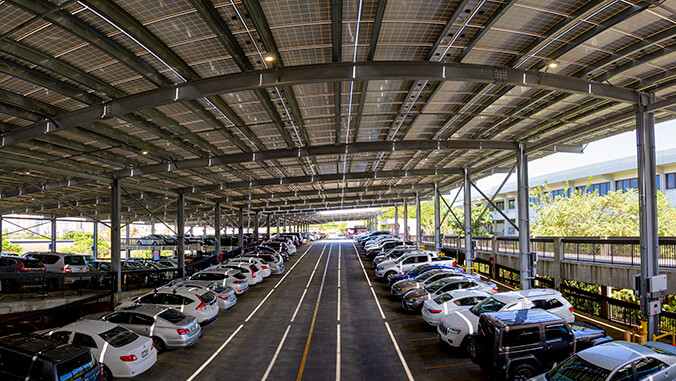 The project is one of the largest monolithic parking structure PV arrays in the nation and is the latest project helping the 10-campus system reach its goal of net-zero energy by 2035. Net-zero energy is when you generate as much energy as you consume.
"This project is proof of our commitment to our net-zero energy goal," said Jan Gouveia, UH vice president for administration, who oversees the UH Office of Sustainability. "It will provide clean, green energy and save money while also showing our students and the people of Hawaiʻi that the University of Hawaiʻi is doing the work needed to save our planet."
Related: First half of PV parking canopy project almost complete, May 10, 2019
Over a 20-year period, the entire project is expected to save between $11 million to $18 million, depending on future energy costs. The arrays have 8,110 modules spanning more than 178,000 square feet and provide shade for cars and pedestrians on the parking structure.
"The addition of photovoltaic systems represents our institutional value of sustainability," said Miles Topping, UH director of energy management. "This project is one of many sustainability initiatives that will help UH continue to reach its energy goals. It's the right thing to do, not just for UH or Hawaiʻi, but for our planet and our children and our children's children, and so on."
The parking structure PV array is one of many at UH that are either underway or in the planning stages. The next projects for the Office of Sustainability include adding more PV installations to existing surface lots on the Mānoa campus and installing more energy-efficient LED lighting.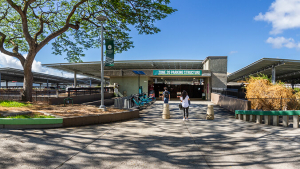 The parking structure project was constructed in two phases to minimize the impact to the campus community with the first phase completed in September 2019. The PV array supports electric vehicle charging on the first floor of the parking structure and will be used for energy research and education as a living laboratory.