Get ready for launch! A team of seven students and faculty from the University of Hawaiʻi Community Colleges is building an 10.5-foot custom rocket to launch in the annual ARLISS (A Rocket Launch for Student Satellites) competition in Black Rock, Nevada scheduled for September 12–15. Six members of the Project Imua Mission 11 team are also building their own rockets to launch in the XPRS (eXtreme Performance Rocket Ships) event September 16–18 to earn various National Association of Rocketry (NAR) certifications.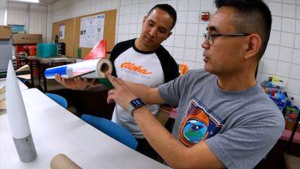 Project Imua is a faculty-student enterprise of multiple UH Community College campuses in affiliation with the Hawaiʻi Space Grant Consortium. Project Imua's primary mission is to experiment with high-powered rocketry and to design and fabricate small payloads for space flight.
For Mission 11, Windward CC will launch the team's rocket at the ARLISS 2022 Come-Back competition. The rocket will contain a land rover designed and assembled by Windward CC that will land by parachute and autonomously make its way back to a predesignated target. An atmospheric detector designed and assembled by Honolulu CC will collect data during the rocket flight.
Read more stories from Project Imua
During the XPRS event, students Caleb Yuen, D'Elle Martin and Alyson Wirtz and mentors Shidong Kan and Helen Rapozo will launch their own custom-built rockets to earn a level 1 NAR certification. Students Nikki Arakawa, Yuen, Martin and Wirtz and mentor Kan will also launch their individual custom-built rockets to earn a level 2 NAR certification.
"Project Imua helps students practice the good experience of being a scientist," said Yuen. "This is my second year of being in this program and I'm taking it just like having on-the-job experience right now."
Project Imua Mission 11 is fully funded by the Hawaiʻi Space Grant Consortium.
—By Kelli Abe Trifonovitch