Leeward Community College culinary student Kaleb Molina can add having a dish named after him to his list of accolades. Kaleb's Keiki Meal was unveiled at the grand opening of the Honolulu Zoo's new Kapahulu Market on August 31, 2022.
Molina's Vegan Rigatoni Bolognese won the 7-Eleven healthy bento contest in December 2021 and was featured in Hawaiʻi 7-Eleven stores for a limited time in 2022. Kaleb's Keiki Meal is a slightly modified (baked not pan-tossed) version of this dish.
"This is an opportunity for me to get my name out there as a chef coming up in the culinary industry," Molina said. "And it's also an opportunity for LCC students to create dishes for children and the community, giving back to what we have here in Hawaiʻi—a little bit of aloha."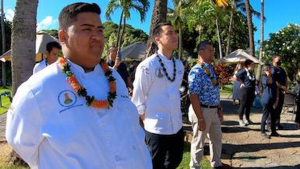 The concession vendor SSA Group will be donating a portion of every Kaleb's Keiki Meal sold to Leeward CC's culinary program.
Rus Murakami, the regional vice president for SSA Group, is on the board of advisors for the culinary program at Leeward CC. When he heard about Molina winning the 7-Eleven competition, he reached out with the idea of featuring his dish through Kapahulu Market, which was then under renovation.
"At Leeward CC they're doing a really good job of growing young culinary chefs," Murakami said. "The food industry is a very tough industry, margins are thin, the hours are long—so these young men and women who are pursuing that—I would love for everybody to come and support them."
—by Kelli Abe Trifonivitch